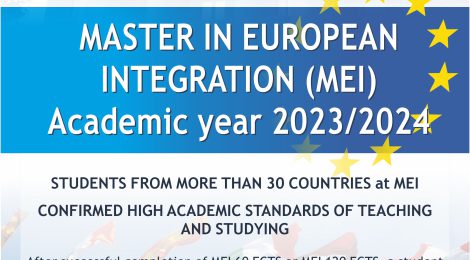 STUDENTS FROM MORE THAN 30 COUNTRIES at MEI CONFIRMED HIGH ACADEMIC STANDARDS OF TEACHING
AND STUDYING
After successful completion of MEI 60 ECTS or MEI 120 ECTS, a student acquires the academic degree: Master of Laws in European Integration.
Applications should be submitted to the Office for Master and Doctoral Studies, University of Belgrade, Faculty of Law, Bulevar kralja Aleksandra 67, 11 000 Belgrade, Serbia.
RELEVANT INFORMATION FOR FOREIGN STUDENTS INTERESTED IN ENROLLMENT AT MEI 2023/24
Foreign students should start the procedure for recognition of their diploma as earlier as possible before the Enrollment phase proposed for October 2023. (See: Recognition of Foreign Higher Education Documents for the Purpose of Further Education http://bg.ac.rs/en/education/recognition.php).
Students interested in MEI and in the Diploma Recognition are invited to join the online meeting with the University of Belgrade officers responsible for the Recognition of the Diploma procedure and with the Head of MEI Prof. Dr. Dragica Vujadinovic (dragicav@ius.bg.ac.rs).
Online meeting will be held on: Thursday, March 23, 2023, at 17.00 https://pravni.webex.com/meet/dragicav
More information about MEI Curriculum and all relevant data see at: http://pogestei.ius.bg.ac.rs