Student life at the Faculty does not merely revolve around lectures and exams, as there is a diverse array of student activities.
Institutio oratoria
Oratory Centre Institutio oratoria gathers all those interested in developing public speaking skills and prepares them for competitions. This organisation organize every year an annual commpetition in oratory.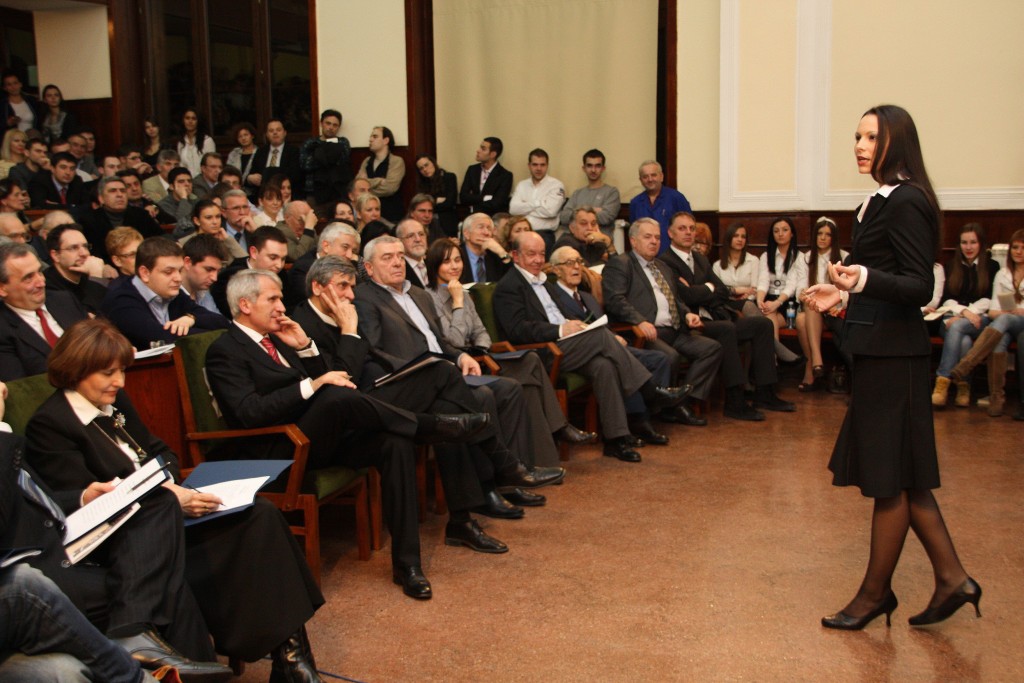 Club for Roman Law and Classics Forum Romanum
The Club for Roman Law and Classics Forvm Romanvm has existed since the year 1970 as a specific form of teaching, within which interesting lectures are given every Friday at 19:00. The subjects of these lectures concern primarily Roman law and antiquity, as well as other areas that might interest this selected audience of good students – legal and political history, culture, mythology… Numerous prominent foreign and domestic scholars have held lectures at the Forum, and after the lectures, always followed by an active discussion, there is usually informal socializing, often with some music and a guitar. For many years educational excursions have been organized, and on them our students have travelled through practically the whole of Europe, Tunisia, Egypt etc, accompanied by their professors and lecturers. An annual Forum ball used to be organized, and this is a tradition we would hope to re-establish. The conditions for membership in the Forum are high grades in legal history subjects and, of course, love towards these topics and a desire to broaden one's horizons. One of the significant advantages of Forum activities – whether they're lectures, excursions or just socializing within the Forum's rooms – is that the new student members get to meet their elders, now affirmed lawyers, experts and businessmen, making this Club, among other things, an alumni society of elite students from different generations.
ELSA – The European Law Students' Association
ELSA is a non-political, independent, non-profit-making association the aims of which are to promote, establish and develop mutual understanding, co-operation and personal contacts between law students and young lawyers from different states and legal systems, thereby equipping them for professional life in an international environment.
ELSA is achieving its objectives in all European countries and some countries outside the European continent, with more than 40,000 members. ELSA Belgrade, as a local group, exists since 1987 and is the largest professional student organization in the country. It achieves its goals by doing various activities such as finding internships for the students of the Faculty of Law, University of Belgrade – in Serbia and abroad, organization of seminars and conferences, training courses, study visits, mock trial, roundtables, debates, visits to relevant government institutions etc.
Website: www.elsa.org.rs
Osmeh na dar 
The main aims of the Osmeh na dar foundation are: providing material and moral support to children from Kosovo and Metohija and internally displaced persons and refugees, as well as helping disadvantaged, ill, and disabled children in all parts of Serbia. Additionally, the foundation aims at raising awareness about social and medical conditions, as well as improvement and promotion of culture and education in underprivileged and developing areas throughout Serbia.
The basic mission of the Foundation is promoting solidarity, virtue, and voluntary activism primarily among the youth, but also among all those who show good will and desire to contribute to the realization of our aims. Moreover, we attempt to contribute to reviving the culture of donating, which used to be widespread in Serbia.
Website: www.osmehnadar.org
United Nations Club
United Nations Club of University of Belgrade of Faculty of Law is a non-governmental and non-profit organization of the University of Belgrade Faculty of Law. UN Club is established with the aim to spread awareness and to educate its members about the importance of the UN work and its commitment to peacekeeping, respecting human rights and promoting sustainable development. The work of the UN Club is based on the mission to:
commit to peacekeeping and spreading tolerance in the world;
promote the importance of basic human rights and freedoms;
develop and empower cooperation and solidarity between all people in the world, no matter of their race, nationality, religion and political views;
inform and educate its members about the UN system and work through various workshops;
promote activities of the UN;
study and research within the Public International Law and to contribute to the education of young lawyers and students of other professions;
encourage and motivate its members to take part in various conferences and competitions, such as Models UN and simulations of trials;
socially empower and motivate its members, especially through volunteerism and youth work.
SAMS – Student Association for International Cooperation
SAMS is an organization comprised of free-thinking individuals constantly on the hunt for new opportunities and ways improving themselves and the society we all live in.
Vision and programme:
Creating and developing contacts with students at home and abroad
Promotion of ideas of free thought, the idea of an equal-chances based society, the idea of a state of law (Rechtstaat) and the rule of law
Providing training-courses which help students aquire new knowledge and skills which will make them more attractive on the job market
Strengthening the academic capacity of students through enganging in matters of public interest
Promoting youth-entrepeneurship and promoting the idea of transition from a public-sector to a free-market based society
Engaging in scientific work and scientific publishing
Organizing vistis to governmental institutions and diplomatic missions
Cooperation with other student and youth organizations, institutes, private sector entities by means of organizing seminars, forums and scientific and student trips
Creating a network of contacts between young professionals and academic citizens