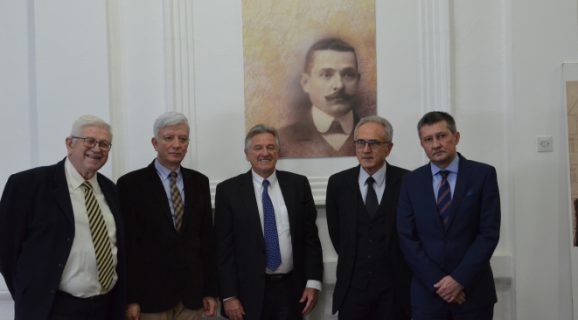 The Faculty of Law Participates in the Opening of the Exhibition Entitled "Živojin Perić – the Man and his Work" at the Valjevo Gymnasium
On the 28th of January, the Dean of the Faculty of Law, Prof. Dr Zoran Mirković, and the Vice-dean for Science, Prof. Dr Marko Đurđević, opened the exhibition dedicated to the life and work of Živojin Perić, and attended the lecture prepared for this occasion by Prof. Dr Jovica Trkulja (retired professor of the Faculty of Law); the exhibition is displayed at the hall of the Valjevo Gymnasium. The Valjevo Gymnasium – where Živojin Perić was a student at the beginning of the eighth decade of the XIX century – has organised this exhibition (in cooperation with the Faculty of Law) within a series of festivities which will mark the 150th anniversary of this institution in 2020.
As Prof. Đurđević pointed out in his speech, Perić considered himself a citizen of Valjevo his whole life. Among the many associations he belonged to, there is one that is particularly important for his relationship with Valjevo. That is the Belgrade Society of Valjevo Men and Women, of which Živojin Perić was a member during the third decade of the XX century.
The exhibition will remain on display at the Valjevo Gymnasium until the end of February. On this occasion, a portrait of professor Živojin Perić was placed in the Gallery of Renowned People at the Gymnasium, where it will remain on permanent display.