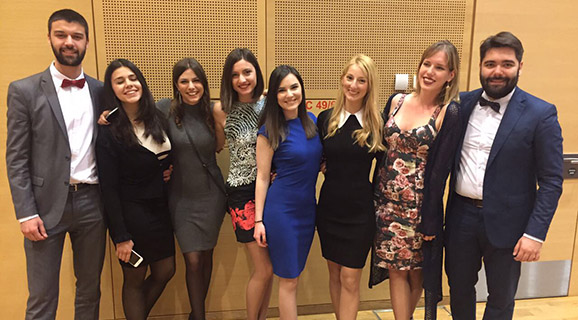 After winning the Milan and Moscow Pre-moot, the students of the University of Belgrade Faculty of Law had a great success advancing to the round of 64 in oral rounds, in the tough competition including 342 teams from 76 countries all over the world, at the XXIV annual Willem C. Vis International Commercial Arbitration Moot, which took place from 7 to 13 April 2017 in Vienna. Besides that, our team won the Honorable Mention for the best individual speaker.
This years' team of the University of Belgrade is comprised of the fourth-year students and the master students: Ana Radojević, Katarina Tomić, Milica Volarev, Tatjana Radivojević, Tanja Milojević, Jovan Mićović, Stefan Savić and Nevena Stojković. Like in the previous fourteen years, the team is coached by Professor Dr. Vladimir Pavić and Assistant Professor Dr. Milena Đorđević. The coaches of the team are assisted by Assistant Professor Dr. Marko Jovanović and Assistant Uroš Živković, as well as by the former Moot participants.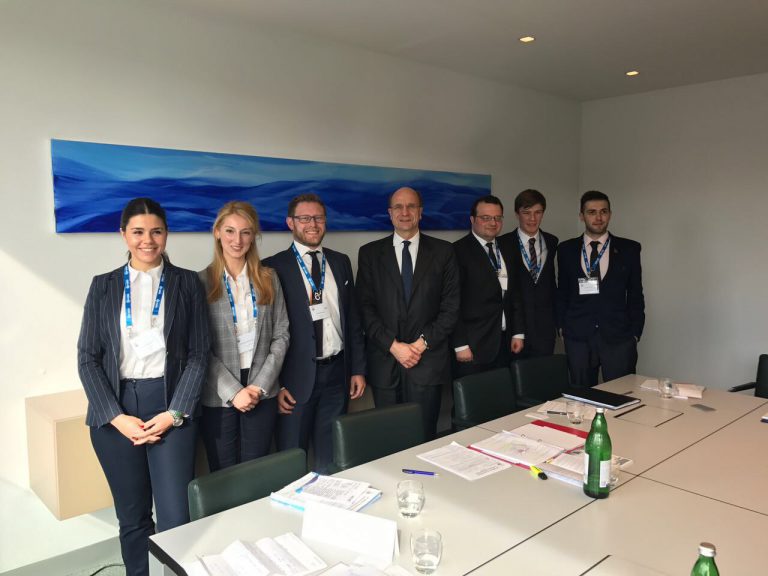 During the qualification rounds our students competed against the teams from the universities from China (Tsinghua University), USA (Case Western Reserve University), Netherlands (Utrecht University) and UK (Lancaster University). Great performance of our team reserved them a place in the round of 64 in the competition of the 342 teams that participated in this "Arbitration Olympics".
Along with the achievement in the oral rounds, on the closing ceremony the University of Belgrade Faculty of Law received one honorable mention: Milica Volarev was awarded as one of the best individual oralist.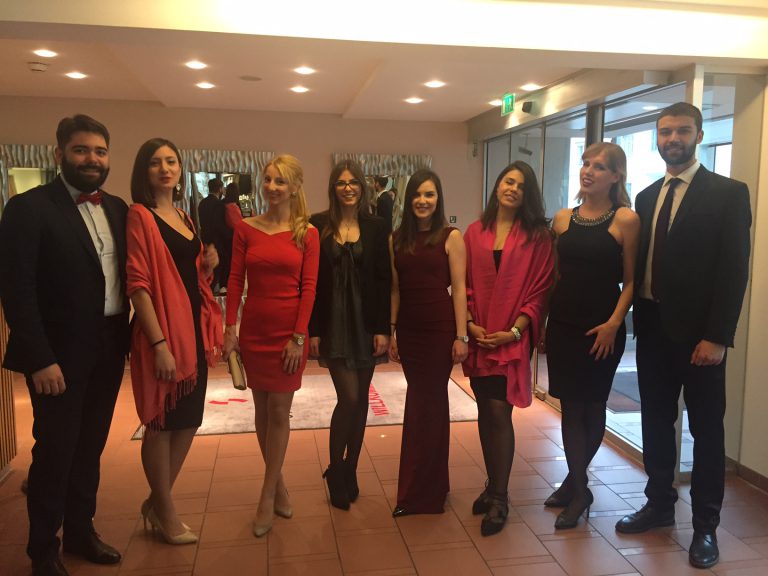 The participation of our students at the XXIV Vis moot in Vienna and the preceding pre-moots would not have been possible without the generous support of our team's donors. The University of Belgrade Faculty of Law thus uses this opportunity to express gratitude to all the institutions and individuals who helped the preparation of our students through their donations. Apart from the University of Belgrade Faculty of Law, the pool of this year's sponsors consists of: Chamber of Commerce and Industry of Serbia, Energoprojekt Holding, Deloitte Serbia, Banca Intesa, Porsche leasing, Hand Commerce, SM Inžinjering, and the following law firms: Karanović-Nikolić, SOG/Samardžić Oreški Grbović, Moravčević, Vojnović and partners in cooperation with Schoenherr, Wolf Theiss, CMS Belgrade, Harrison Solicitors, BDK, Nikolić-Kokanović-Otašević, MIM, Joksović Stojanović i partneri, Stanković i partneri, Tomić Sinđelić Groza, Janković Popović Mitić, Baklaja Igrić Tintor, Gecić Law, Anđelković, Doklestić & Partners,Blečić and partners, Čajić, Andrić, attorney Aleksandar Todorović, attorney Ivan Todorović, attorney Liljana Popadić, attorney Dušan Sivčev, attorney Hrle, attorney Srđan Đorđević, attorney Đorđe Đurisić, and Marko Vukićević.