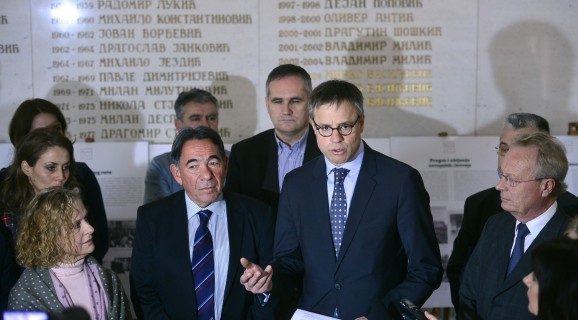 Exhibition Dictatorship and Democracy in the era of extremism displayed at the Faculty
Dean of the Faculty of Law, Prof. Dr Sima Avramovic and German Ambassador in Serbia Aksel Ditman opened the exhibition entitled Dictatorship and democracy in the era of extremes, at the Faculty of Law on 01 February 2016, which students of Faculty of Law will be able to see until the end of February.
The exhibition was created as one of the projects of the Committee for Culture of Faculty of Law's Student Parliament, in order to celebrate the 27th January as Remembrance Day for the victims of Holocaust. The idea of the exhibition came from the Committee on Culture and the president of Serbian – Jewish society, Marlene Pavlovic and it was implemented with the support of the German Embassy and the office of Council of Europe in Serbia.