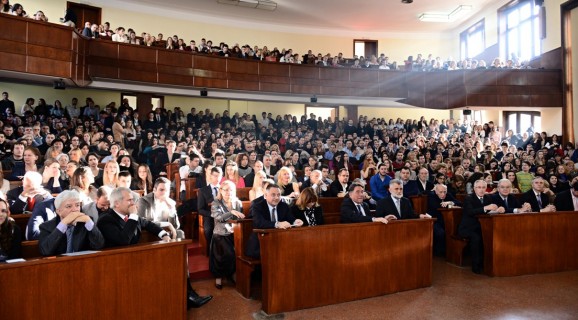 Saint Sava ceremony
On 27 January 2016 the University of Belgrade Faculty of Law hosted a traditional ceremony on the occasion of Saint Sava  day where excellent students of the Faculty of Law were awarded with special prizes and certificates.
The ceremony was held in the amphitheater 'Radomir D. Lukić ' in the presence of many distinguished guests, graduates, professors  and other staff of the Faculty of Law. The program started with the performance made by the academic choir "Obilic".
Students who have received the prize of the Foundation "Prof. Dr Mirko Vasiljevic" are: Bojana Bilankov and Hristina Vojvodić. In the category of students with social needs who regularly carry out their academic duties, six students were awarded: Nikola Pavlovic, Katarina Bozovic, Marko Belić, Nemanja Ćurčić, Dragana Prosinger and Andrijana Bakračević.
Fondation "Dragoljub Atanacković" awarded Bogdana Stjepanović fot the great success gained  in the subject of the Criminal Law.
Foundation "Radivoj B. Vasovic, senior legal adviser and his family" awarded Karolina Nimet for great success in undergraduate studies and Bojan Jovic for great success in master degree studies.
The representatives of the faculty gave special academic honors to the best students of I, II, III and IV year students with a GPA 9.00 – 10.00 out of 10.00 (total number 385) and diplomas to a new generation of law graduates (250).
The best student of  generation 2011/2012 is Nikola Paunovic, with an average score of 10.00 out of 10.00, while five more students of the same generation have an average 10: Bojana Bilankov, Marija Momić, Iva Ivanov, Jelena Djordjevic and Ivana Radisavljević.