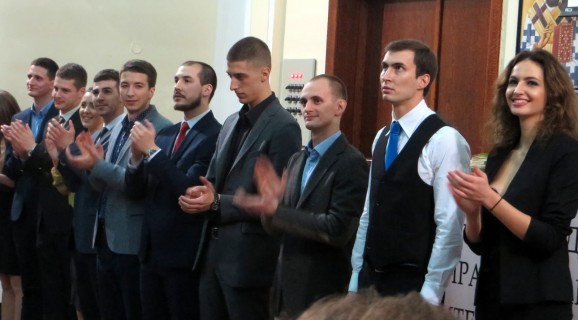 XXII competition in oratory
On 27 January 2016 Faculty of Law, University of Belgrade and Center for oratory "Institutio oratoria" organized XXII competition in oratory.
Competition was attended by Nikola Selakovic, Minister of Justice and state governments, professors, lawyers and numerous students.
Students competed in three categories and their oratorical skills were evaluated by the jury consisted of: Dr. Ljiljana Mrkic Popovic – FDU professor, Branislav Lecic – actor, Ratomir Rale Damjanovic – writer, Mr. Daniel Blaževska – rhetoric lecturer at the Law Faculty in Skopje and Dr. Sima Avramovic – dean of the Faculty of Law in Belgrade.
The winners:
Overall winner:
Nenad Obradović, master student
Audience Award:
Katarina Momić, fourth year
In the category of given topic:
Nenad Obradović, master student
Kristina Dedić, a first year student
David Vucinić, a first year student
In the category of free topic:
Mladen Stiković, student of the fourth year of study
Bojana Petrović, a first year student
Djordje Vesić, a fourth year student
In the category for improvisation:
Marko Erak, a fourth year student
The "European Youth" award (European Forum Alpbach):
Luka Raznatovic, a fourth year student
The award from the fund "Veljko Guberina":
Nenad Obradovic, master student