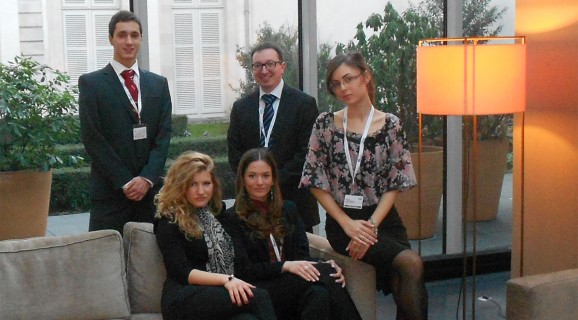 Our Students Participated in the Competition in the Field of International Commercial Mediation
Students of University of Belgrade Faculty of Law, participated in the VII annual competition in international trade mediation (International Commercial Mediation Moot Competition) which was held from 3 to 8 February 2012 in Paris. Although our students demonstrated a high level of knowledge and practice during four qualifying pleadings, they failed to qualify for the next round and continue the competition. University of Belgrade Faculty of Law was consisted of fourth year students: Bojana Todorović, Jovana Lakić, Dubravka Stijović and Dušan Mitrović. The coach of the team was assistant Marko Jovanović and he had a great help of teaching assistant Uroš Živković. Also, Prof. Dr. Vladimir Pavić and Ass. Milena Đorđević helped and supported the team.
International Commercial Mediation Moot Competition was organized by the Department for Alternative Dispute Resolution of International Chamber of Commerce in Paris – ICC. This year the competition was attended by arround 400 students (66 teams) coming from 32 countries from all continents. Organazing committee is the one who decides which applications will be accepted. The criteria that Committee uses for its decision are the following: earlier participation in the competition, whether mediation has been included in the regular curriculum or not, multiculturalism etc. Therefore, the mere fact that our team participated in the competition is kind of a privilege for our faculty.
The opponents of our team were collegues from the University of Ottawa (Canada), the American Rutgers University, India's University of Gujarat and  Erasmus University of Amsterdam (Netherlands). The winner of this year's competition is the Faculty of Law of University of South Texas from the United States.