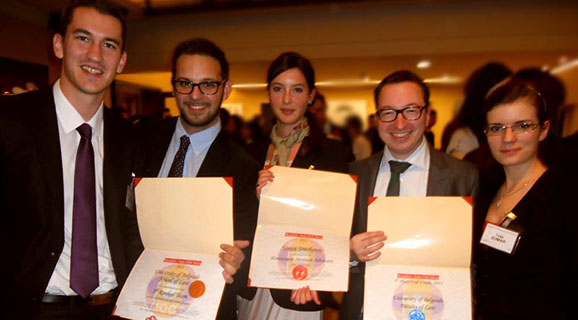 Another great success of our students
Once again the students of the University of Belgrade Faculty of Law have achieved outstanding results at an international competition. At this year's annual Foreign Direct Investment International Arbitration Moot the team of the Faculty, comprised of Vladimir Boskovic, Sonja Sreckovic and Tanja Sumar, proved that the high quality of education received at the Faculty of Law can challenge universities from around the world.
This year, thirty five teams from seventeen countries competed for the Moot's prestigious awards, but only the Belgrade team managed to triumph in all four categories of the competition.  Firstly, the Belgrade team won third place in the overall team ranking. In addition, the team was also awarded third place for the best memoranda and fifth place in the oral rounds, after being eliminated by a split panel in the quarter finals and, subsequently, prevailing in the matches for places 5-8. In addition, our student Sonja Sreckovic received Honorable Mention. Over 100 speakers competed for this accolade, only the top eight speakers are ultimately rewarded for their advocacy skills.
The Belgrade team was coached by Marko Jovanovic and Uros Zivkovic, lecturers at the Faculty of Law, with great help of professor dr. Vladimir Pavic and Milena Đorđević LLM who also served as arbitrators on the competition.
This year's Moot was organized by renowned King's College in London, UK, from 4 to 6 November. The Moot involves a hypothetical case in connection with an investment by a private investor in a foreign host state. The Moot consists of two parts.  The first one is preparation and submission of written memoranda prior to the oral hearings. Each of the participating teams must submit two memoranda: one on behalf of the Claimant, the other on behalf of the Respondent.  During the oral part of the Moot the students present their arguments before an arbitral tribunal consisted of three members.