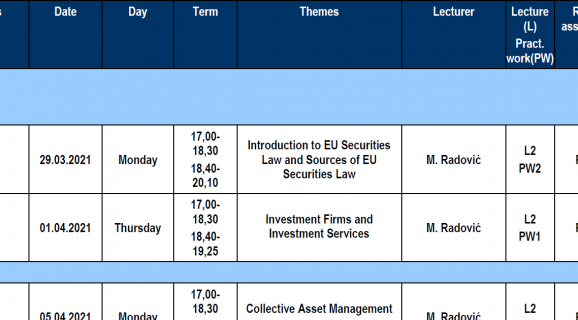 CALL FOR REGISTERING FOR ADDITIONAL COURSE – EU Securities Law
Students of undergraduate, master and doctoral studies of the Faculty of Law University Belgrade are invited to register for the course EU Securities Law as the additional one. This course will be held by Prof. Dr Vuk Radović, Prof. Dr. Tatjana Jevremović Petrović and Prof. Dr. Mirjana Radović in the framework of the master`s study program Master in European Integration. EU Securities Law deals with EU rules on capital markets. In this course students learn about financial instruments (e.g. equity and debt securities, options, futures, swaps and other financial derivatives), market participants (e.g. issuers, investors, investment firms, market operators), investment services (e.g. execution of orders, investment advice, underwriting), trading in financial instruments and supervision of the EU capital market.
Students which register for this course as the additional course will receive the Certificate of Attendance for regular attendance and active taking part in the work.
Students can register by sending email to docent Filip Bojic (filip.bojic@ius.bg.ac.rs) and directly to professor Mirjana Radović (mirjanam@ius.bg.ac.rs)