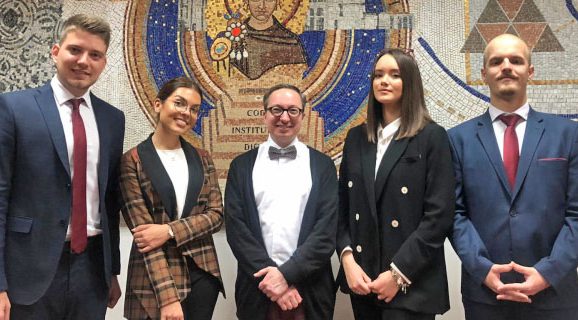 Our Faculty's students have won second place at the regional competition in foreign investment law, within the Frankfurt Investment Arbitration Moot Court international competition, held at Skopje between the 19th and 23rd of November 2019. The competition was coupled with a winter school dedicated to Investments and Dispute Resolution Instruments, where students had the opportunity to become better acquainted with current issues related to investment arbitration, such as transparency, new trends in investor protection conventions, personal jurisdiction of the ICSID, constitution of arbitration tribunals, and the responsibility of the state. The competition and the winter school were held at the Faculty of Law pertaining to the Ss. Cyril and Methodius University of Skopje, under the sponsorship and organized by the German Agency for International Cooperation (GIZ). Members of the team representing the University of Belgrade Faculty of Law were students of master and undergraduate studies Stefan Jovanović, Aleksandar Kaluđerović, Anja Mihajlović, and Sanja Petrović. The team was coached by Dr Marko Jovanović. Competing with Belgrade team, there were teams from Sarajevo, Zenica, Podgorica and Skopje.
After the winter school was completed – with lectures given by Arne Fuchs of the McDermott Will & Emery law firm (which also helped organize the Frankfurt Investment Arbitration Moot Court), Judith Knieper of the UNCITRAL secretariat, the coach of the Belgrade team, Dr Marko Jovanović, and representatives of the Skopje Faculty of Law – the competition ensued. The Belgrade team crossed swords with the teams from Skopje and Zenica, once as the plaintiffs, and once as the defendants. Both the winter school and the competition were held in English.
Belgrade's team trip to Skopje was only an introduction into the international competition in investment arbitration which is to be held at Frankfurt in the first week of March, 2020. The members of the team, as named above, along with their mentor, have been preparing for months now to stand against teams from 45 faculties from around the world, and demonstrate their knowledge in foreign investment law and arbitration, but also their excellent verbal skills.