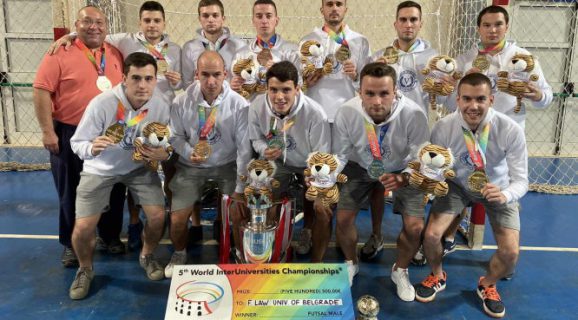 The Futsal Representation of the Faculty of Law Defends the Title
At the Fifth World InterUniversities Championship, held in Pula this year between the 12th and 15th of November, the futsal players of the Faculty of Law have defended the title of world university champions, won last year in Barcelona. At this year's World Championship, gathering 32 teams from all over the world, the Faculty of Law made it to the title without a single loss, defeating the rivals from Libya 5:1 in the finale.
With this triumph, our representatives – who won the Belgrade University League Championship for two years in a row, while also being the core of the University of Belgrade futsal selection, which won the Serbian Championship for two years in a row, as well as the European InterUniversity Cup in Milan – have secured a direct placement at the Mediterranean University Games in Beirut and the Sixth World InterUniversities Championship in Rome in 2020.
The gold was defended by Marko Badovinac, Nikola Vićić (captain), Nikola Ristanović, Strahinja Petrov, Nikola Matijević, Filip Minić, Nikola Arsić, Ivan Nikotović, Aleksandar Fric, Jovan Ristanović, Marko Lazić, and Đorđe Vrljanac. Matija Burić acted as head of the delegation.
The selector of the representation, Prof. Dr Vladimir Vuletić, points out that this is a generation of university futsal players that comes once in a blue moon in Serbia; he also warns that Belgrade and Serbia are facing the organisation of European InterUniversity Games in July 2020, and that, with that in mind, it is high time to take a more serious and commited approach to university sports.