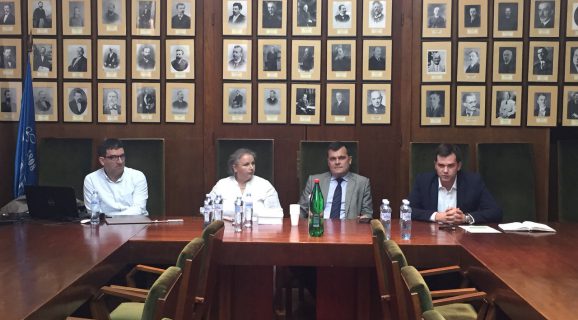 Discussion "Challenges of the legal profession in Serbia" was held in the General Seminar
A discussion on the subject of "Challenges of the legal profession in Serbia" was held as part of the General Seminar in the Ceremonial Hall on May 22th 2019. Judge Dragana Boljević –President of the Judges' Association of Serbia (JAS), lawyer Jugoslav Tintor – president of the Belgrade Bar Association and Professor Dr Danilo Vuković have spoken on the subject of the discussion, while Assistant Professor Dr Miloš Zdravković moderated it. Issues such as the future of the Serbian legal practice on the globalized market, independence of the judicial function and trust in the Serbian judiciary were discussed.
At the very beginning, Prof. Dr Danilo Vuković presented the results of the research on the professional position of lawyers in Serbia that had been conducted within our Faculty's Centre for socio-legal studies. He pointed out a paradoxical finding that citizens, as well as lawyers themselves, have a relatively low level of trust in the judiciary. Judge Dragana Boljević underlined, in her presentation, the reputation and independence of the judiciary in present day Serbia and emphasized that she is aware that external, as well as internal factors have led to the collapsing of this once most esteemed profession. Lawyer Jugoslav Tintor spoke of the world trend in segregating attorneys based on the type of clients and dominant practices, where he gave his opinion that in spite of the crisis of legitimacy, the Serbian legal practice is still a free profession that is successfully overcoming challenges. The participants were in accord in the attitude that solving the crisis of confidence in judiciary should be the primary task of the legal profession.
The hosts of the General Seminar and the audience have expressed their gratitude to our guests for their presentations and willingness to continue cooperating with the professors and students of the University of Belgrade Faculty of Law. After the presentations of the participants an active discussion took place.