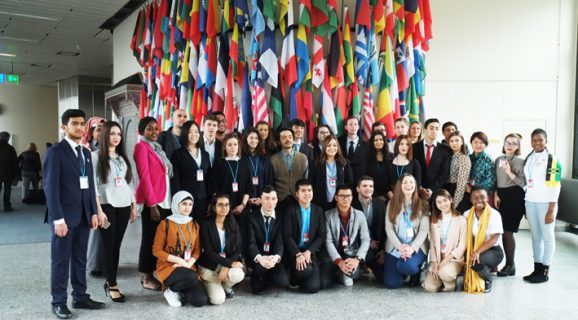 Great Success of Our Student at the UN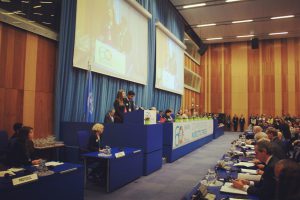 Ms. Radmila Doder, member of the UNODC Youth Initiative and former vice-president of the UN Club at the University of Belgrade Faculty of Law as well as former editorial board member of Student Economic Law Review had the honor of addressing the 60th Commission on Narcotic Drugs at the United Nations Headquarters in Vienna as the first speaker together with her colleague Mr. Marcelo Martinez from Peru at the opening ceremony. This was the first time in the history of the Commission of the Narcotic Drugs that the first speakers were youth which represents great success and honor when it comes to the role of youth in general as well as great success and honor for the Republic of Serbia and Republic of Peru. The speech was well received by the present ambassadors and  other members of the delegations of the member states, including H.E. Yuri Fedotov, the head of the UNODC, who congratulated Radmila and Marcelo for their great work.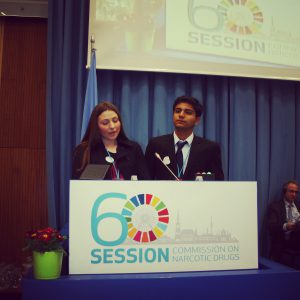 The next day Ms. Radmila Doder and Mr. Marcelo Martinez had a presentation at the Youth Forum with an aim to inspire all the participants, young leaders from more than 30 countries. Radmila talked about her experience as well as about future collaborative international projects at the Youth Forum which takes place in the same time as the Commission on Narcotic Drugs in which she participated for the first time as delegate of Serbia in 2013. When she returned to Serbia she had meetings with Mr. Milan Pekic, General Manager of Office for combating drugs of Republic Serbia and Mr. Milos Stojanovic, Regional Project Manager at the UNODC Serbia with whom she talked about the current situation in Serbia when it comes to drug problem as well as future collaboration.
An article about Radmila's experience as member of the UNODC Youth Initiative.
https://www.unodc.org/unodc/en/prevention/youth-initiative/webstory-radmila-2017.html
*This article was written without formal approval or formal editing by the UNODC