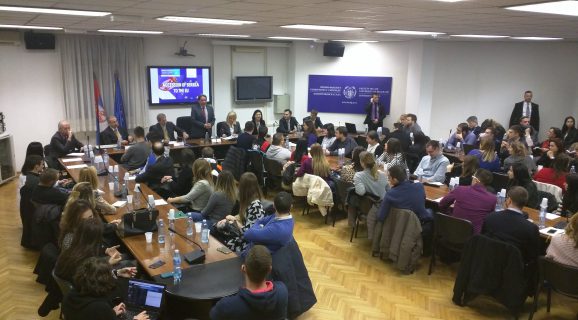 Lecture on Serbia's Accession to EU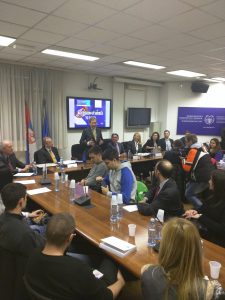 The University of Belgrade Faculty of Law had a pleasure of hosting Mr. Johannes Hahn, European Commissioner for European Neighbourhood Policy and Enlargement Negotiations and Professor Tanja Miščević, the Head of the Serbian negotiation team for accession to the EU, on 5 December 2016, who gave a lecture to students of Master in European Integration and the Forum for Diplomacy and International Relations on Serbia`s European Integration and European Union`s support to reforms in Serbia.
The well attended lecture and debate that followed was also attended by his Excellency, ambassador Michael Davenport, Head of the European Union Delegation to the Republic of Serbia, who provided answers to some of the students questions.
The lecture and debate concentrated on the questions of whether the opening of new chapters for Serbia can be expected, whether the Progress report is positive or not, whether the EU internal crisis impacts and to what extent the accession of Serbia to the EU,  migrants` crisis and ways for its resolution,  relations between EU and Turkey,  costs and benefits of the accession to the EU, and  in particular, comments on the Chapters 35, 24, 23.
The esteemed guests were welcomed by the  Dean Professor Sima Avramović and by Professor Dragica Vujadinović, the Head of the MEI, who moderated the event.