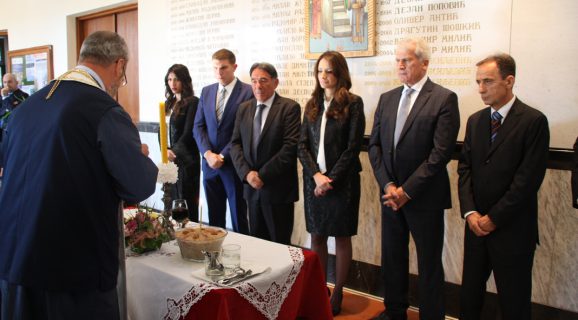 Festive Events at the Faculty
The University of Belgrade Faculty of Law has ceremoniously marked Krstovdan, Faculty of Law's Slava celebration on the 27th of September 2016.
Both the current students and alumni attended the ceremony in the main hall of the Faculty, as well as the Minister of Justice of the Republic of Serbia, numerous judges, lawyers and eminent jurists. The occasion has continued with the purpose of celebrating the "Day of the Faculty" in the form of solemn academy in the Faculty's biggest classroom – amphitheater Radomir Lukić where the guests had a chance to listen to the performance of "Obilić" choir led by the conductor Miodrag Jevtović.
Students were greeted by the Dean of the University of Belgrade Faculty of Philosophy, Prof. Vojislav Jelić who emphasized that: "It is necessary for the people to live and work as they help each other, are accordingly accessible to each other and understand each other because solitude leads to loneliness". As he greeted the recent graduates, the Dean of the Faculty of Law, Prof. Sima Avramović has wished them success in their professional career and he expressed his sincere belief that the future ministers of justice, supreme court judges and prime ministers can be found among them.
After the solemn academy, in the second part of the ceremony, undergraduate and master students have received their diplomas.
This year, for the second time, the University of Belgrade Faculty of Law and the Serbian Arbitration Association have jointly organized an essay contest in honor of late Professor Gašo Knežević. After evaluating the submitted essays, the jury decided to award the first prize to Ms. Andrea Nikolić, student of the master studies at the Faculty, for the paper titled "Independence and impartiality of arbitrators in comparative arbitration law with special reference to IBA rules of ethics". The second prize went to Ms. Milica Arsić, student of the master studies at the Faculty, while Ms. Mina Mihaljčić, undergraduate student, won the third place. The awards were handed to the winners of this contest by the Dean Sima Avramović, on behalf of the Faculty,  Ass. Prof.  Milena Đorđević, on behalf of the Serbian Arbitration Association and Mr. Miljko Valjarević, on behalf of  Prof. Gašo Knežević' family.