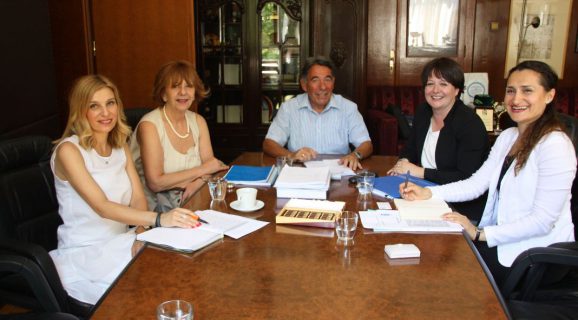 Cooperation Agreement Signed with UNDP
The Dean of the University of Belgrade Faculty of Law Prof. Dr Sima Avramović welcomed the representatives of the UNDP on 8 July 2016 at the Faculty. On that occasion they have signed the cooperation agreement regarding organization of the course "Drafting proposals of statutes and other legislation", within the project "Strengthening the Oversight Role and Transparency of the Parliament – 2nd Phase".  Prof. Dr. Radmila Vasić, the director of the course and Ms. Ivana Rodić, coordinator for international cooperation at the Faculty, were also present at the signing of the Agreement. The goal of the Project is to enable enhancement of the legislative procedures, especially when it comes to enactment of regulations needed for application of laws.
The course will be organized in cooperation with the Serbian Parliament and Government, and it will be attended by the fourth year students of the University of Belgrade Faculty of Law and civil servants. The underlying idea of the course is to promote legal drafting skills of the students of the Faculty and civil servants. The course will take place at the Faculty in the period of 1 October to 15 November 2016 and will encompass both theoretical and practical topics which will be presented to the audience by the professors of the Faculty and high-ranked officials of the Parliament and Government of the Republic of Serbia.
The organization of the course is also supported by the Swiss Agency for Development and Cooperation.