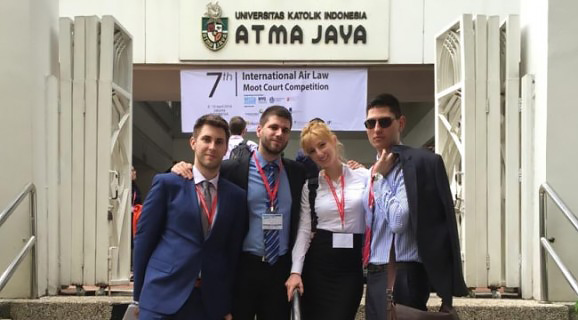 A successful participation of our team at the Air Law Moot Court Competition in Jakarta
University of Belgrade Faculty of Law team of students has achieved a great success at the Seventh International Air Law Moot Court Competition, which took place from 7th to 10th April in Jakarta, Indonesia. The team has been awarded the seventh place in the Respondent category at the semi-finals oral rounds.
Representing the University of Belgrade for the first time at this prestigious competition, our team has earned the compliments and the respect of many judges in the oral rounds against the host Atma Jaya Catholic University of Indonesia, Sri Lanka Law College from Colombo, DePaul University College of Law from Chicago and China University of Political Science and Law from Beijing. Our students qualified to this competition based on the submission of the written arguments, which were assessed by law experts in this field of law. Out of 56 teams that applied for this competition, only 26 teams qualified for the semi-final rounds held in Jakarta, including our team.
At the final round of the competition, which was held at the Constitutional Court of Indonesia, Dr. Ram Manohar Lohiya National Law University from India beat National University of Singapore to claim the victory at the Seventh Leiden Sarin International Air Law Moot Court 2016.
It is worth mentioning that our team achieved this remarkable success competing against teams coming from many prestigious universities from around the globe, despite the fact that Air Law is not a part of the Faculty of Law's curriculum, hereby showing that it stands shoulder to shoulder with the students from advanced and specialized LL.M. Master Programs in Air and International law. This achievement comes as a continuation of a successful moot court tradition at the Faculty of Law and we hope it will boost the next generations to take part at this competition in the future years.
The students who represented the University of Belgrade Faculty of Law for the first time at this competition are: Tatjana Radivojević, Ognjen Mirković and Aleksandar Stevanović. The team was coached by Professor Ivana Krstić and former student and Jessup Moot Court participant Branislav Radović. They were assisted by the PhD student Andrijana Mišović, and many other colleagues from the Faculty. The participation of our team was supported by Marić & Mujezinović Joint Law Office, in cooperation with Kinstellar, to which the Faculty expresses a special gratitude and acknowledgments.