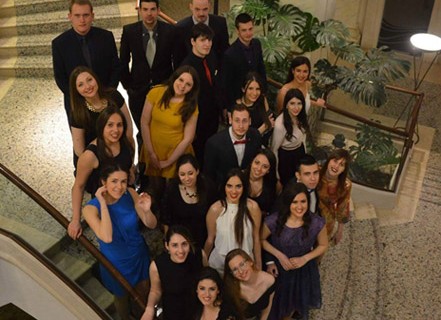 Successful Participation of the UN Club, Faculty of Law at BIMUN 2016
Club of the United Nations, Faculty of Law, University Belgrade, for the second time took part in the Belgrade Model United Nations, which lasted from 16 to 20 March 2016. The Committee of the model of United Nations, which is consisted of the President Milena Nikolic and members Nemanja Bezarević and Milica Skaro, was preparing the delegation in order to reach successful participation of the UN Club at the conference. They were members of BIMUN team as presidents and vice-presidents of the Assembly for Environment and Security Council. They tried to share with delegates their knowledge and experience in the field of diplomacy, international law and the UN system.
Members of the delegation, also the representatives of the UN Club at BIMUN were: Stefan Ivošević, Danica Petrovic, Tamara Bajčić, Željko Blizanjac, Nemanja Vojinovic, Radmila Doder, Ljubica Drakulić, Jelena Ivetić, Nina Iković, Miloš Jovanović, Kristina Kolaković, Jovan Marković, Mihailo Marković, Nevena Marinčić, Mila Miladinovski, Marinela Petrović, Natalija Radivojevic, Filip Simovic, Nikolina Skoro, Danica Vlaović, Jelena Peruničić and Aleksandar Zivanovic.
Our members have distinguished themselves in lively debates and lobbying at the meetings at the Ministry of Foreign Affairs, the Office of the Diaspora, the National Assembly of the Republic of Serbia and the Yugoslavian Cinema. We are especially proud that Stefan Ivošević, member of the delegation to the UN Club, who won the award for the best delegate of the World Heritage Committee of UNESCO. He is the only delegate from Serbia who won this award.