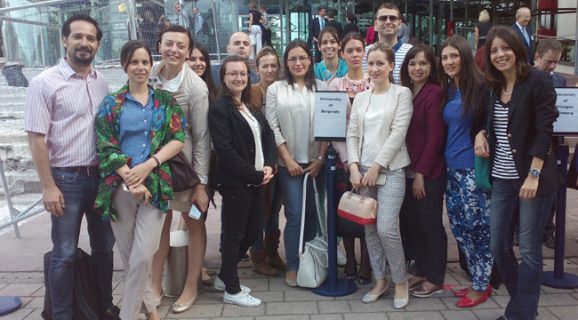 MEI Study Trip to European Institutions
The traditional study trip for students of the Master in European Integration programme, generation 2014/2015, was organized from July 6 to July 11, 2015. Fifteen students of the Master in European Integration programme were accompanied by two professors of our Faculty – Prof. Dr. Tanasije Marinković and Doc. Dr. Maja Lukić.
The agenda of the study trip was the most comprehensive so far. Students were given the opportunity to visit numerous institutions of importance for EU law and the European integration, situated in four different countries, including the Council of Europe, European Parliament,  European Court of Human Rights, German Federal Constitutional Court, European Court of Justice and the European Commission. In the end, students and their professors visited the Serbian Delegation in the EU in Brussels.
Such an outstanding program of the study trip would not have been possible without generous donation provided by IRZ (German Foundation for International Legal Cooperation). The University of Belgrade Faculty of Law once again expresses its gratitude to IRZ for supporting the study trip with such a generous contribution and for thus enabling our master students to deepen their knowledge and widen their experiences by visiting the most significant EU institutions.