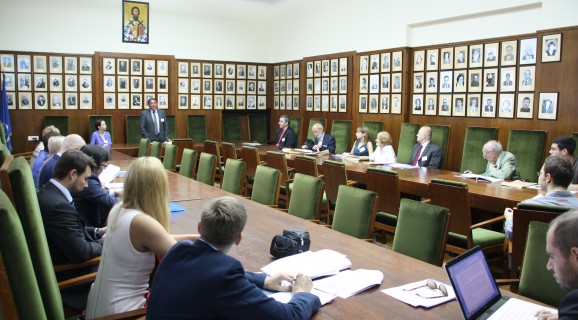 Conference 125 YEARS SINCE THE BIRTH OF ALEXANDER VASILYEVICH SOLOVIEV
The 18th of September this year marks the 125th anniversary of the birth of the great Russian scientist who had left a deep trace in Serbian academic circles – Alexander Vasilyevich Soloviev. He taught the History of Slavic Laws at the University of Belgrade Faculty of Law for twenty-six years, from 1920 to 1946. During that time, he wrote a great number of significant scientific works, both in the area of Serbian legal history and the legal history of other Slavic countries (Montenegro, Bosnia, Ragusa, Bulgaria, as well as his native Russia) and the Romaian Empire (Byzantium).
The University of Belgrade Faculty of Law, which was professor Soloviev's professional home for the longest period of time, wishes to commemorate this significant anniversary. The conference dedicated to his life and work was held at the Faculty of Law, on 18-19 Septemeber 2015.
Dean of the Faculty of Law, Prof. Dr. Sima Avramović opened the conference. During the two days of the conference, which had six sessions, the following topics were covered: Session one: Solovyev, Serbian legal history and international perspective, Session two: Solovyev and the ideas of law, the state and the church, Session three: foreign influences in medieval Serbian law, Session five: Solovyev's contribution to Serbian medieval studeis, Session six: Solovyev – the polymath.