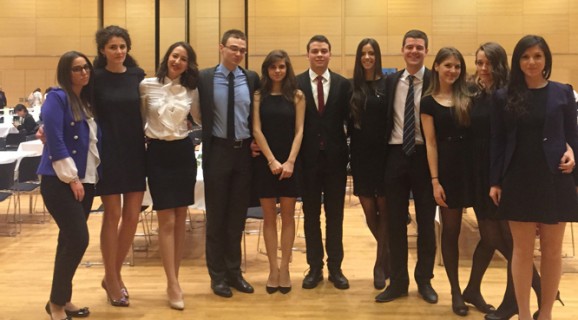 New Achievements in International Commercial Arbitration Moot Court Competition
Students from the University of Belgrade Faculty of Law participated at the 22nd annual Willem C. Vis International Commercial Arbitration Moot that took place from 28 March to 2 April 2015 in Vienna and that gathered almost 300 university teams from all around the world.
Each year, the competition revolves around a mock case in the field of arbitration and international sale of goods. This year's problem dealt with the jurisdiction of the arbitral tribunal in relation to a non-signatory party, the jurisdiction of the emergency arbitrator and the issue of fundamental breach of contract in sale of minerals. The moot court is separated into two separate stages. The first, written stage of the competition engages teams in submitting Memorandums for both Claimant and Respondent while the oral stage comprises of series of hearings chaired by a three-member panel where students represent both parties in the case and plead their arguments before renowned professors, attorneys and experts from different jurisdictions. Every team partakes in general rounds, acting as both Claimant and Respondent (two times in each role), while three arbitrators score oralists from the team in the range of 25 to 50 points. Based on the 24 scores in the general rounds, at the end of the fourth day, the organisers comprise a list of top ranking teams where 64 finalists proceed to knockout rounds. This year, our students competed against their colleagues from Jordan, France (Université de Poitiers), USA (Belmont University) and Philippines (Ateneo de Manila), achieving particular success in the written stage of the competition – winning an Honourable Mention for the Pieter Sanders Award for Best Memorandum for Claimant. Team of students from the Ottawa University won the first place in the competition in the oral rounds.
The team of the Faculty comprised of the following students: Bojana Bilankov, Sanja Došen, Iva Ivanov, Anđela Mirković, Marija Momić, Stefan Nešić, Andrea Nikolić, Mitar Simonović, Tatjana Sofijanić, Marko Tešanović i Milica Tomić. During the preparations for the finals in Vienna, our students took part in pre-moot tournaments in St. Galen, Milan and Munich – where they won the first place among 19 teams from 11 different countries. As in the previous years, the team was coached by Prof. Dr Vladimir Pavić and Assist. Prof. Dr Milena Djordjević with the help of Assist. Prof. Dr Marko Jovanović. Significant assistance and help in the preparations was provided by former mooties and students of master and doctoral studies, trainees and attorneys in leading offices in Belgrade: Marija Vićić, Milena Radosavljević, Igor Radovanović, Maja Dobrić, Sara Penđer, Anđa Savić and others.
Following the tradition from previous years, our team was cheered and followed in Vienna by friends and supporters who acted as arbitrators on the Vis Moot, former participants (currently acting as attorneys in top-tier law firms in Belgrade) as well as supporters and their representatives who helped with donations and enabled the students to travel to Vienna and participate in the competition.
University of Belgrade Faculty of Law would like to use this opportunity to once again thank all the institutions and individuals who participated with donations and assisted our team on their journey to pre-moot tournaments and Vienna finals, having in mind that every success comes as a product of both hard work and adequate funding and support. The pull of sponsors for this year's team includes: Energoprojekt holding, Banca Intesa, Karanović/Nikolić Law Office, Law Office Samardžić, Oreški, Gecić & Grbović, Moravčević & Vojnović Law Office in cooperation with Schoenherr, Wolf Theiss, Petrikić & Partners Law Office in cooperation with CMS, Harrisons Solicitors Law Office, BDK Attorney at Law, Joksović, Stojanović & Partners Law Office, Joint Law Office Marić & Mujezinović in cooperation with Kinstellar, Nikolić Kokanovic Otašević Law Office, Janković, Popović Mitić Law Office, Law Office Baklaja & Igrić, Dušan Sivčev Attorney at Law, Bojović & Partners Law Office, Tomić-Sinđelić-Groza Law Office, NST Law Office, Marko Vukićević Enforcement Office, Law Office Todorović, Blečić & Partners Law Office, Srđan Đorđević Attorney at Law, Law Office Andrić, Miodrag Jevtić Attorney at Law, Law Office Hrle and Aleksandar Todorović Attorney at Law.