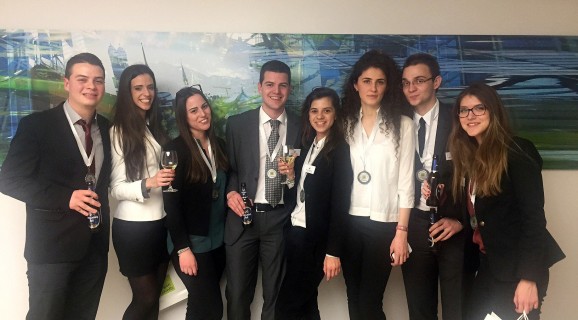 Belgrade mooties won the first place at all Munich rounds
In the course of their preparations for the participation at this years' XXII Willem C. Vis International Commercial Arbitration Moot, the students of the University of Belgrade Faculty of Law won the first place at the All Munich Rounds, a pre-moot competition organized at the Ludwig-Maximilians University of Munich from 26th to 28th of February 2015.
During the two days of competition, our students pleaded against the teams from the University of Freiburg, the University of Frankfurt, MGIMO University from Moscow, Sciences Po College from Paris, the University of Tubingen and Bucerius University. Among 19 teams from 11 countries our students won the first place after having been the prevailing team in each of the seven rounds of the competition. Our students scored more than 2 points in average than the second-ranked University of Maastricht and the third-ranked Bucerius University.
This years' team of the University of Belgrade is comprised of the fourth-year students and the master students: Bojana Bilankov, Sanja Došen, Iva Ivanov, Anđela Mirković, Marija Momić, Stefan Nešić, Andrea Nikolić, Mitar Simonović, Tatjana Sofijanić, Marko Tešanović and Milica Tomić. Like in the previous twelve years, the team is coached by Professor Dr. Vladimir Pavić and Assistant Professor Dr. Milena Đorđević. The coaches of the team are assisted by Assistant Professor Dr. Marko Jovanović, as well as by the former Moot participants Marija Vićić, Milena Radosavljević, Igor Radovanović, Maja Dobrić, Miloš Vukotić and others, who are now master or doctoral students at the University of Belgrade Faculty of Law and work in the leading law firms in Belgrade.
Prior to All Munich Rounds, our students participated at the Swiss Day, the pre-moot tournament held in St. Gallen, Switzerland on the 6th and 7th February 2015. That was an opportunity for the members of the Belgrade team to engage in practice hearings against the best Swiss teams and gain the valuable experience necessary for improving their performance. Judging by the comments of the arbitrators, our students left an excellent impression. However, the formal ranking was left out since the tournament was not meant to have a competitive nature.
The next stage of preparations of our students shall take place in Milan on the 6th of March, at the pre-moot organized by the Milan Chamber of Arbitration (Camera arbitrale di Milano). Finally, the preparation process shall end at the same place where it began – in Belgrade, at the Belgrade Open Pre-Moot, the world's largest pre-moot tournament that will gather more than 60 teams from 32 countries on 21st and 22nd of March 2015.