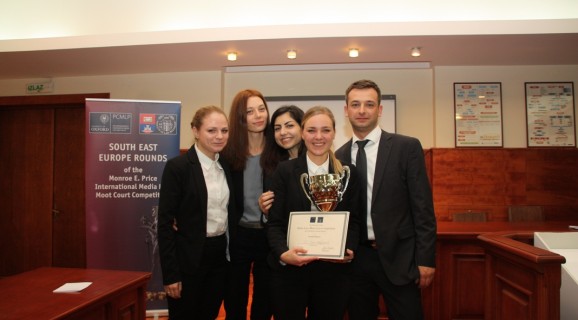 Student Competition in the Field of International Media Law
Programme in Comparative Media Law and Policy (PCMLP) at Oxford University's Centre for Socio-Legal Studies), for the ninth year in a row, successfully organized an international competition in the field of international media law. At this year's competition, which was held in April 2015, over 100 universities from more than 30 countries  were gathered. In the final round in Oxford on the basis of written submissions and qualifications in the oral rounds, 40 teams will have a chance to prove their skills.
The competition consists of solving a given case in the field of international media law. This year, students were engaged in solving problem, which has hate speech on the social networks as a central issue. The competition has two stages. The first on is written part, where the task for teams is to send submissions on behalf of the prosecutor and the defendant, as a members of the media and the state. The second one is an oral phase where teams present their arguments before a three-member judicial council.
After winning the first place in Oxford in 2011, the Faculty of Law, University of Belgrade had an honor to organize a regional competition for countries of Southeast Europe, together with the Oxford University.
This year, the winner was the team of the University of Zagreb. In the final round of competition at Oxford two teams advanced to the final which will be held at Oxford – Union University in Belgrade and the University of Niš.
Special thanks for organizing this event go to Vanja Djuričić, Nevena Krivokapić, Marko Živanović and Sava Pavlović, students of the University of Belgrade Faculty of Law. The coordinator was assistant Vuk Cucić.