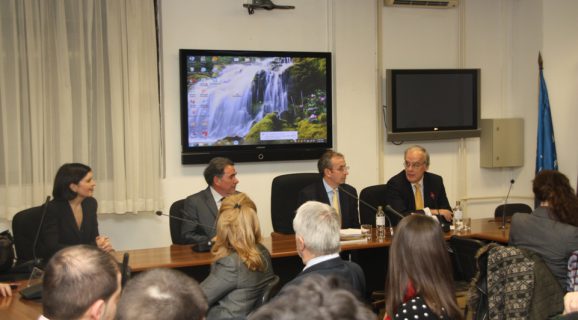 Serbia's Efforts Towards the European Union Integration from the Perspective of the EU
On January 16, 2014, the University of Belgrade Faculty of Law had a pleasure of hosting the Head of the EU Delegation to Serbia – H.E. Michael Davenport who, within the Master in European Integration, held a lecture on  "Serbia's efforts towards the European Union integration from the perspective of the European Union". Given the large interest, the lecture was open for other interested persons and students. Ambassador Davenport was intruduced by Prof. Dejan Popović, former Ambassador of Serbia in the UK, upon welcoming address by Dean Avramović, who expressed his gratitude to Ambassador Davenport for giving the Faculty of Law an honor by accepting its invitation for guest lecture.
In his lecture, the Ambassador Davenport first elaborated on the key aspects of the EU policy when it comes to the accession process, while subsequently focusing on specific issues relevant for the Serbian negotiation process with the EU which is set to commence next week. Upon the lecture, the Ambassador was happy to answer all the questions from the audience and to spend some time exchanging views and ideas with students.