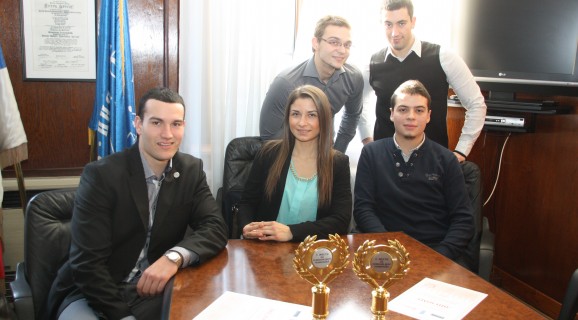 Great Success of our Students in Moot Court Competition in the Field of Protection Against Discrimination
The first national moot court competition in the field of protection against discrimination was organized by the Commissioner for Protection of Equality, in partnership with the Judicial Academy and with the support of UNDP. The aim of the competition is to contribute to the development of legal education in this field and to promote the equality in the Republic of Serbia. The final rounds of the competitions were held from 20 to 21 December 2013.
22 teams consisted of students from nine faculties from Serbia, participated at the moot court competition. Coaches who were preparing our students for this competition were Prof. Dr. Miodrag Jovanović, Ass. Prof. Dr. Ivana Krstić, Ass. Prof. Dr. Ljubinka Kovačević, Ass. Prof. Dr. Bojana Čučković and assistants Dr. Maja Lukić and Vuk Cucić. Our students have won prizes in three categories: best written submissions, the best oral presentation and best speaker.
Four team out of eight in oral rounds were from our faculty. In that phase of the competition, every team presented their arguments in favor of claimant or respondent, in front of the tribunal consisted of distinguished experts in this field. The winner team was from University of Belgrade Faculty of Law (Gavrilo Nikolić, Milica Žarkić, Lidija Radulović) and the coach of this team was Ass. Prof. Ivana Krstić. The first runner-up was also a team from our faculty (Stefan Andonović, Marko Tešanović, Mitar Simonović) and their coach was Prof. Dr. Miodrag Jovanović.