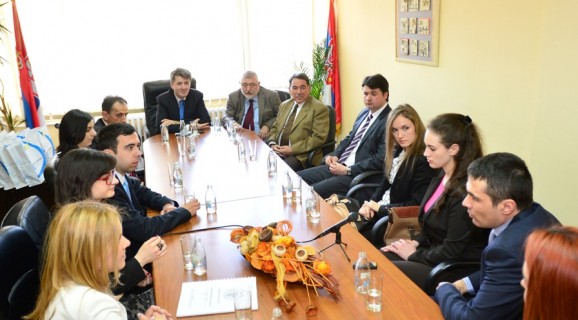 The Minister of Education receives the award-winning team
On 15 April 2013, the Minister of Education, Science and Technological Development of Serbia Dr. Žarko Obradović organized a reception for the students of the University of Belgrade Faculty of Law who won the award for the best Memorandum on behalf of the Claimant at this year's Willem C. Vis International Commercial Arbitration Moot in Vienna. Apart from the students, the academic coaches of the team Prof. Dr. Vladimir Pavić, Assist. Prof. Dr. Milena Đorđević and Lecturer Marko Jovanović, the Dean Prof. Dr. Sima Avramović, the Vice-Dean Prof. Dr. Vladan Petrov and the Secretary-General of the Faculty Mr. Miljko Valjarević also attended the reception.
Minister Obradović told to the students that their success represents a strong proof not just of their remarkable personal competences but also of the high quality of education received at the University of Belgrade Faculty of Law. "Your success is also important for the ranking of the University of Belgrade among other European universities. You represented our country and our higher educational system in the best possible way", the Minister said.
Expressing his gratitude for this reception, the Dean of the Faculty, Prof. Dr. Sima Avramović, emphasized that this achievement of our students clearly speaks against a popular belief that the law students can graduate from the Faculty without being able to draft a claim. Satisfied with the success of our students and the attention that this success managed to attract, the Dean added that new forms of practical skills are constantly being introduced in the curriculum.
As a present from the Minister, each student received a book and a seven-day accommodation in Students' Guest House in Zlatibor.