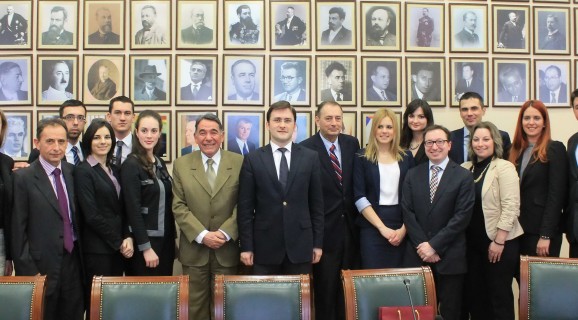 Minister Selakovic receives the winning team
Minister of Justice and Public Administration, Mr. Nikola Selaković, received today in the building of the Government of the Republic of Serbia the students of the University of Belgrade Faculty of Law who won the first place in the competition for the Pieter Sanders award, which is bestowed to the University that drafts the best memorandum on behalf of the claimant at the Willem C. Vis International Commercial Arbitration Moot. The competition was particularly strong this year, as the Vis Moot gathered more than 2000 students coming from 290 law schools and representing 66 countries.
"The success that you achieved on behalf of the Faculty of Law and the University of Belgrade as a whole has a historic importance", the Minister said. Furthermore, the Minister expressed his hope that this achievement will help the University of Belgrade improve its ranking at the Shanghai list of the world's top 500 universities. Mr. Selaković put a special emphasis on the fact that, by winning this award, the students continued in the best possible way the beautiful tradition of support to moot court competitions established by the previous management of our Faculty and continued by the current Dean and his team.