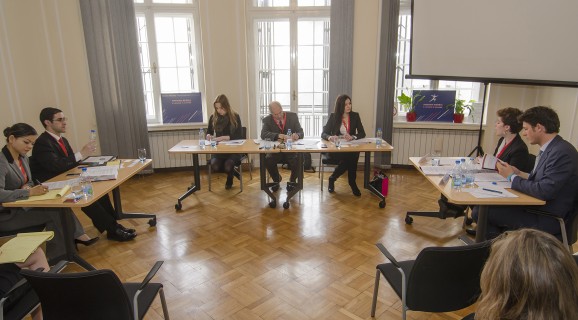 VI Belgrade Open Pre-Moot
After organizing the well attended V Belgrade Arbitration Conference, the University of Belgrade Faculty of Law had the honor of hosting the sixth annual Belgrade Open Pre-Moot practice rounds for the Willem C Vis International Commercial Arbitration Moot on 16 and 17 March 2013. This year the Belgrade Open hosted more than 500 participants – students, coaches, arbitrators – and gathered the teams from 47 universities coming from 27 countries of the world: from North and South America, over Europe and Asia to Australia and Oceania. Like in previous years, the Belgrade Open attracted great interest of law schools worldwide. Consequently, the waiting list for the participation at the Pre-Moot was rather long. By the number of participants, the Belgrade Open Pre-Moot grew into the world's biggest pre-moot for the Willem C. Vis Moot.
During the two days of pre-moot, more than 130 practice sessions took place in the seminar rooms of the Faculty and the offices of Karanović/Nikolić law firm, Nikolić, Kokanović, Otašević law firm and American Chamber of Commerce in Serbia. See Schedule of Hearings >>
The participants of the Pre-Moot had the opportunity to test the persuasiveness of their arguments before highly competent and renowned lawyers, arbitrators, judges, academics and other practitioners coming from all over the world. The success of the Belgrade Open Pre-Moot is further proven by the fact that this year more than one fourth of the teams that participated in Belgrade practice rounds qualified for the elimination rounds at the Moot in Vienna (top 64 universities), held in the last week of March 2013.