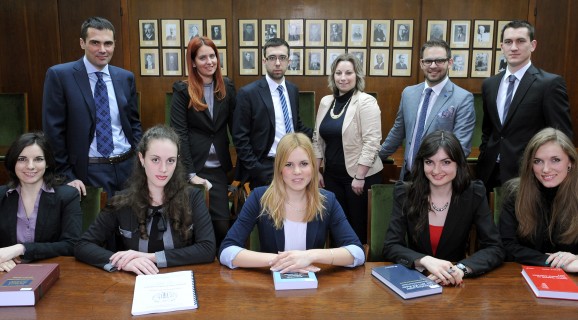 Belgrade Vis Moot Team wins first prize at the Willem C. Vis Moot
University of Belgrade Faculty of Law team has won the first place for Claimant Memorandum (Pieter Sanders Аward for the Best Memorandum for Claimant) at the 20th Willem C Vis international Commercial Arbitration Moot in Vienna. The competition took place from 21 to 28 March 2013. The competition gathered over 2000 students from more than 290 Universities from 66 countries. In addition to the highest honor for their Claimant Memorandum, our students also received an honorable mention for reaching final rounds of oral competition (Frédéric Eisemann Award for Team Orals – Finalist).
The team this year consisted of final year and master students: Maša Mišković, Andrijana Mišović, Dragana Nikolić, Dina Prokić and Dejan Sivčev, while Vladimir Bošković, Marija Bućković and Tamara Momirov took part in preparation of the Claimant Memorandum. The coaching of students was conducted by Prof. Dr. Vladimir Pavić and Ass. Prof. Dr. Milena Đorđević, assisted by our Faculty lecturers Marko Jovanović and Uroš Živković. Further support in preparation of our students was heartily provided by other Faculty members and former moot participants.
The Willem C. Vis Moot consists in solving a hypothetical problem dealing with arbitration and international sale of goods. This year's problem involved, among other things, the issues related to the admissibility of a written witness statement in cases when witness is unavailable for an oral hearing, the choice of applicable law and the scope of party autonomy principle in relation to freedom of form provisions in the CISG as well as the issues pertaining to ethical quality of the goods of a manufacturer who used child labor in one of its facilities despite the contractually agreed requirements of "highest ethical standard" in conduct of its business.
The Moot consists of two parts. The first one is preparation and submission of written memoranda prior to the oral hearings. There are two memoranda to be written: one for the Claimant, the other for the Respondent.  Writing of the memoranda usually takes about five months.  The second phase involves preparation for presentation of oral arguments before a three-member arbitration panel. During the general rounds in Vienna, each team has four hearings, appearing two times on behalf of claimant and two times on behalf of respondent. At each hearing, speakers (two per team) are graded by a panel of  three arbitrators. At the end of the fourth day of general rounds, each team has 24 grades and the ranking list of all the participating teams is drawn. The best 64 teams (out of 290 that took part in the competition) are then divided into 32 pairs and they proceed to elimination rounds.
During the first four days of qualification rounds our students competed against the teams from England (Honorable Society of the Middle Temple), Ireland (Trinity College, Dublin), Hong Cong (University of Hong Kong) and Denmark (University of Copenhagen). For the ninth year in a row, University of Belgrade team advanced to the elimination rounds. Such consistency is unique and apart from our Faculty only the team of the (West Benghal) National University of Juridical Sciences from Kolkata has managed to keep the same level of consistent excellence in the past nine years.
In the elimination rounds, our team performed excellently, but – in a very close encounter – the team of University of Dusseldorf prevailed. The tradition of achieving great results in this prestigious competition has thus been continued this year as well, and Belgrade was listed among the top world centers for arbitration and legal education.
The University of Belgrade Faculty of Law would like to use this opportunity to once again express its gratitude to all the institutions and individuals who helped the preparation of our students through their generous donations. Apart from the University of Belgrade Faculty of Law, the pool of this year's donors consists of: Banca Intesa, Hemofarm Foundation, Energoprojekt, Societe Generale Bank; and the following law firms: Karanović-Nikolić, Moravcević-Vojnović & Partners in cooperation with Schoenherr, CMS Belgrade, Wolf Theiss, Harrison Solicitors, Janković Popović Mitić, Baklaja & Igrić, Nikolić-Kokanović-Otasević, Živković & Samardzić, Josković, Stojanović & Partners, Mikijelj-Janković & Bogdanović, Tomić Stević Dulić, Nenad Stanković &Partners, Kinstellar, Blečić and Partners, Law Office Todorović, Luka and Rajna Andrić, Miroslav Paunović, Đorđe Đurišić, Miodrag Jevtić as well as the Belgrade Bar Association, Petošević d.o.o., Buck and LG Hemija.
Belgrade Vis Moot Team in the News >>