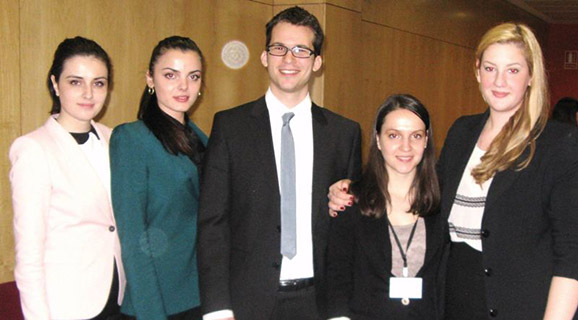 Another success of our students
On yet another pre-moot tournament on the occasion of XIX Willem C. Vis International Commercial Arbitration Competition Moot, held from 20 to 21 March 2012 in Madrid, Spain, the team from the Faculty of Law, University of Belgrade ranked second competing against 15 teams from 11 countries from Europe, Latin America and Australia. Winning round after round in the qualifications, our students climbed their way to the finals where they met, for the second year in a row with the team from Wellington University, New Zealand. This year, the New Zealanders came out as winners in this encounter, and our students secured the elite position of the prestigious pre-moot's Vice Champions.
The team from our Faculty is persistantly excellent in various pre-moot tournaments prior to the Vienna finals every year, and the Madrid tournament was no exception. After winning the Milan pre-moot and two second places at Munich and Madrid, the last stop for our students before the Vienna finals will be this weekend, in their hometown – Belgrade (24 and 25 March 2012), when the V Belgrade Open Pre-Moot will gather 36 teams from 25 different countries from around the globe to match their advocacy skills and prepare for the upcoming Willem C. Vic International Commercial Competition Moot.
Dealing with all the pre-moot challenges of this year, the Faculty team represented our University in Madrid comprised of final year and master students: Jelena Arsić, Stefan Golubović, Mina Srećković, Anja Tasić and Anđelka Todorović.