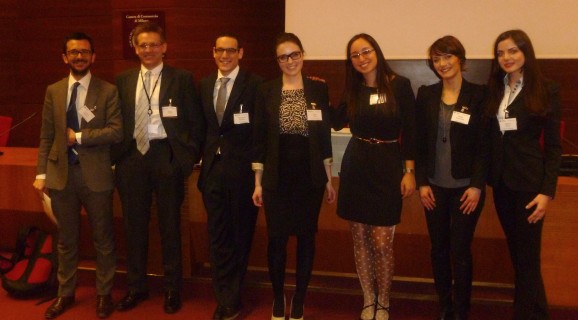 More success stories from European pre-moots
Competing against teams from Italy, Switzerland, France and Finland, the team of the University of Belgrade Faculty of Law won the first place at the V Milan Pre-Moot organized by the Chamber of Arbitration of Milan on 2 March 2012 on the occasion of XIX Willem C. Vis International Commercial Arbitration Competition Moot.  The Belgrade team, which consisted of students from final year of undergraduate and master studies: Jelena Arsić, Anja Tasić, Ana Petrović and Vanja Vujnović, was accompanied by Uroš Živković – teaching assistant at the Faculty of Law – as the team's coach.
Mirroring the success of the Belgrade team from last year – after four consecutive rounds of pleadings – the students of the University of  Belgrade Faculty of Law have emerged victorious topping the list of prestigious law faculties coming from, among others, University of Fribourg, Sciences Po, University of Bocconi, University of Milan and University of Lausanne.
By achieving the top score in the tournament, the team of our students has unambiguously shown that quality of education obtained at our Faculty stands equal to the level and quality of education offered at top European universities. The General Consul of the Republic of Serbian in Milan, Ms. Ivana Pejović, has organized a special reception for our students after the pre-moot competition, where official celebration of successful participation of our team took place.
At the same time, the other part of the Belgrade team that will represent University of Belgrade Faculty of Law at the final tournament in Vienna, took part in the pre-moot competition held in Munich that gathered 18 faculties coming from 11 countries, including renowned universities from Freiberg, Munich, Paris, Madrid, Moscow, Vienna and many others. Our students have once again shown remarkable advocacy skills winning the second place at the pre-moot in the overall scores. The team from Heidelberg University topped the list of participants scoring only two points more than Belgrade. This part of the Belgrade team consisted of 6 students at their final year of undergraduate and master studies: Stefan Golubović, Marina Nikolić, Ana Odorović, Anđa Savić, Mina Srećković and Anđelka Todorović, and was accompanied by Marko Jovanović – lecturer at the Faculty of Law – as the team's coach.
The University of Belgrade Faculty of Law would hereby also like to thank to all the institutions, companies and individuals that supported our students in traveling to these preparatory competitions with their generous donations, especially having in mind that apart from hard work and dedication, each of these ventures requires substantial monetary support. This year, the pool of donors includes: National Bank of Serbia, Serbian Railways, City of Požarevac, Societe General Bank, Čačanska banka, as well as law offices: Karanović & Nikolić, Moravčević, Vojnović Zdravković in cooperation with Schoenherr, CMS Belgrade, Wolf Theiss, Harrison solicitors, Nikolić-Kokanović-Otašević, Živković & Samaradžić, Mikijelj-Janković & Bogdanović, Baklaja & Igrić, Blečić & Partners, Nenad Stanković and Rajna Andrić.