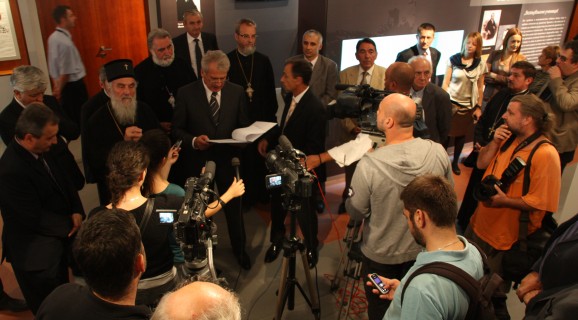 Museum of Faculty of Law
In September 2011, Patriarch Irinej and the Dean, Professor Dr. Mirko Vasiljević have opened the Museum of the University of Belgrade Faculty of Law, located at the premises of the Faculty.
According to the Professor Dr. Mirko Vasiljevic's opening speech, it is like "a diary of its past two decades". Patriarch Irinej referred to this Museum as "the museum of the legal awareness and mission". Patriarch's speech emphasized that the Faculty of Law is not based merely on the days of Dositej Obradović, but also of Saint Sava and Nomocanon, namely Tsar Dusan's times and Dusan's Code, being the first legal documents.
The Museum exhibition presents us with the foundation and development of the Faculty of Law from 1808 until now. The purpose of the Museum is to safeguard the history of the Law Faculty for future generations of young lawyers as a testament of the hard efforts of all those who took part in creation of this institution and fostering its goals. The Museum collection contains artifacts from the history of the Faculty including those related to the establishment of the Faculty in 1808 up to the present times, including the awards and trophies received by the Faculty and its students.