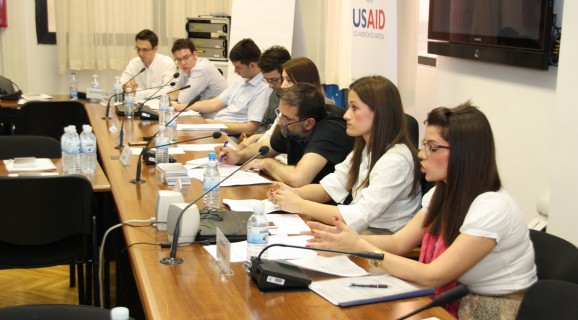 Media Law Seminar
After remarkable success of the students of the Faculty of Law, University of Belgrade at the Monroe E. Price International Media Law Moot Court Competition, the University of Belgrade Faculty of Law had a pleasure to host the Media Law Seminar on 27 May 2011 which was organized and held by students who participated in the Competition. The purpose of the Seminar was to shed a light on this still new field of law in Serbia and to interest more students in it. The main topics of the Seminar were issues of new technologies, the Internet and other telecommunication technologies, in which way these technologies are influencing media and what regime should be applied to them. Seminar was held in full conference hall at the Faculty, and it gathered not just students interested for this branch of law, but also journalists, lawyers, media practitioners, government experts working in regulatory agencies (RRA, RATEL) and others.
The Seminar was divided into two blocks of lectures in which there were lectures on four topics and one presentation given by a journalist. Students, participants of the Competition, were lecturing about comparative approach in media law and how mentioned issues are regulated worldwide, while guest lecturers, gave an overview of the situation in Serbia. The opening lecture on regulation of the Internet and broadcasting through systems of licensing and registration was given by Adriana Minović. She was followed by Nevena Krivokapić, who gave lecture on penalties for journalists and guidelines determining the level of the penalties given by ECtHR. Then Slobodan Kremenjak, attorney at law from Živković-Samardzić law office, had a lecture on Serbian Law on Public Information and our case-law in that regard. Finally, at the end of first block, Sava Pavlović spoke about the protection of privacy of public persons and anonyms persons.
Second block started with Petar Radosavljev, who gave lecture on the interception in the U.S. and Europe, followed by Stefan Dragojević speaking about the interception in Russia, South Korea and BlackBerry case in India. After that, Slobodan Kremenjak talked about the interception in our country and gave an overview of the Law on Electronic Communications and relevant domestic case-law. Finally, Vukašin Obradović, president of IJSA, elaborated couple of recent cases concerning journalists' rights and elaborated on the sort of difficulties journalists are facing while reporting. The seminar was then concluded by Milica Janačković who was a student coordinator of this project.
This seminar is a part of Media Law Project, on which students started working in October 2010. The Project included creation of the database of reported attacks on the media in Serbia, visits to the ongoing media law trials and three seminars on media law, held in Niš, Belgrade and Novi Sad. The program of all tree seminars was the same, while Dragana Kocić and Dragan Lazarević participated in Niš and Nened Cvejtičanin and Željko Bodrožić in Novi Sad. Project's aim was to raise awareness of the media law and to educate new generation of media lawyers, who will pass on their knowledge and experience to next generations. The students were involved with this project thanks to Independent Journalist Association of Serbia, and IRAX/USAID. Their goal was to use this project to create a new generation of well prepared media lawyers who will be able to start working in this area as soon as possible. Being so, IJAS and IREX/USAID did not just help students to go to the Competition, but also provided them with a complete education in media law by including them in this project. The Project was conducted in cooperation with the fund "Osmeh na dar" and with a generous support of the University of Belgrade Faculty of Law.