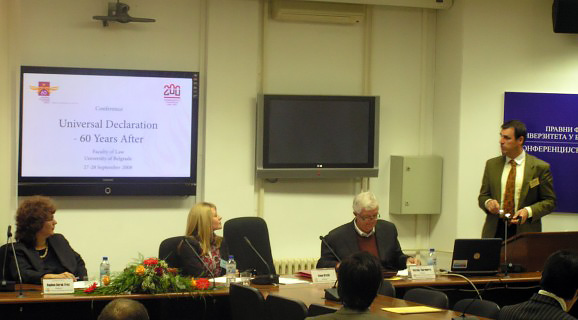 Conference "Universal Declaration – 60 Years After"
On the occasion of 200 years of the University of Belgrade, as part of the celebration, an international conference "Universal declaration – 60 years after" was held in the conference hall, on 27 and 28 September 2008. The event was dedicated to the adoption of an international instrument which is built in today's international system of human rights protection. Guests and participants of the conference were welcomed by Prof. Dr. Mirko Vasiljević, dean of the Faculty of Law, Lance Clark, coordinator of the UN office in Serbia and Mrs. Ruth Van Rhijn, Head of the Rule of Law and Human Rights of the OSCE Mission in Serbia.
The two-day conference was attended by prominent professors and experts from foreign universities and institutes, as well as our experts in the field of human rights and public international law. In the end, all the participants expressed their satisfaction with the work of the conference, the organization and the kindness of the organizers and volunteers and students expressed their willingness to be guests of our Faculty once again.