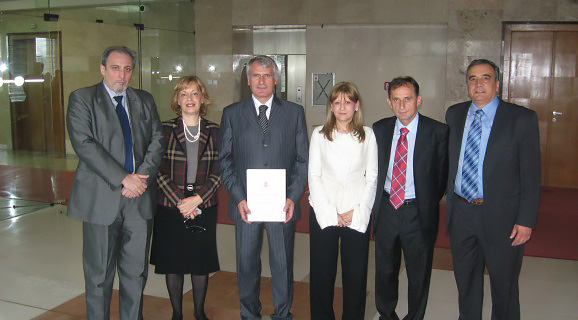 Accreditation of the Faculty of Law
T
he quality of the studies at the University of Belgrade Faculty of Law has been confirmed by the fact that its programs have been accredited in the first round of accreditation in May 2008 organized in accordance with the 2005 Law on Higher Education. Deans of 13 faculties from Belgrade, Novi Sad, Kragujevac, Niš and rector of University of Novi Pazar officially got the certificates of accreditation of accademic institutions and study programs, on 23 May 2008. At the same time, more than 200 study programs were accredited.
Congratulating the deans for the accreditation, rector of University of Belgrade Prof. Branko Kovačević emphasized the common goal and importance of becoming the part of a single European market and expressed hope that the acreditation will contribute to improving the quality of study programs.
With delivering the certificates of accreditation gain in the first round, the proccess of accreditation, that 170 faculties in Serbia must pass, began. The whole process of issuing new licenses for the work should be completed by June 2009.