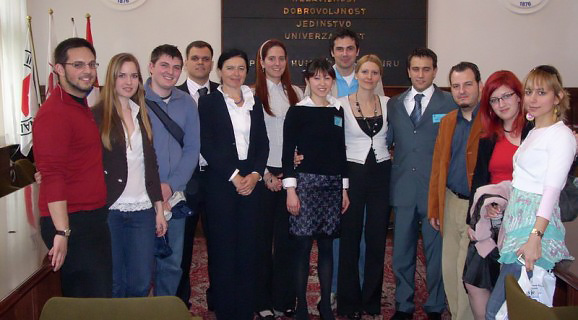 Our students won the first place in the competition of international humanitarian law
In the period from 19 to 23 April 2008, our students took part in the competition of the International Humanitarian Law, which was held in the premises of the Red Cross. Beside University of Belgrade Faculty of Law, other faculties participated in the competition: Faculty of Political Sciences, Faculty of Law in Novi Sad, Faculty of Law in Niš, Police Academy and the Military Academy. Our students won the first place and thus ensure participation in the prestigious international competition Jean Piktet, which is organized every April in another country. This year the competition was held in Switzerland.
Our students showed great knowledge, but also a excellent oratory skills and abilities of playing various roles. They played the role of defense minister, foreign minister, legal advisors, activists of the International Committee of the Red Cross and NGO activists.
Our team was consisted of: Veljko Grković, Mia Fukuda and Marko Vujetić, while the coach of the team was assistant Dr. Ivana Krstić.