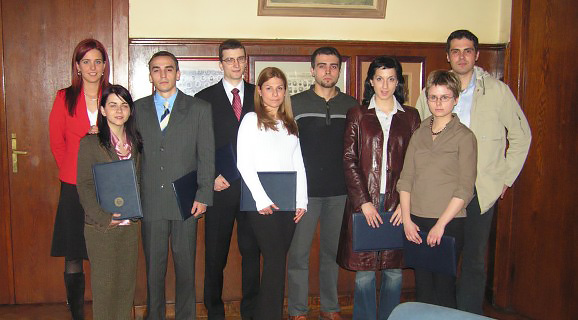 Great sucess of our students in International Commercial Arbitration Moot Court Competition
Students of the University of Belgrade Faculty of Law had a great success advancing to the round of 32 in oral roudns, in the tough competition including 152 teams from 47 countries all over the world, at the XII annual Willem C. Vis International Commercial Arbitration Moot, which took place form 17 to 24 March 2005 in Vienna.
The Willem C. Vis Moot consists in solving a hypothetical problem dealing with arbitration and international sale of goods. The Moot consists of two parts. The first one is preparation and submission of written memoranda prior to the oral hearings. There are two memoranda to be written: one for the Claimant, the other for the Respondent. The writing of these memoranda usually takes about five months. The second one is presentation of oral arguments before a three-member arbitration panel. During the qualification rounds each team has four hearings, appearing both on behalf of claimant and respondent for two times. At each hearing, each speaker is graded by each of the three arbitrators. In the end of the fourth day of qualifications, each team has 24 grades and the ranking list of all the participating teams is drawn.
During the qualification rounds our students competed against the teams from the following universities: University of Giessen (Germany), University of Denver (USA), Loyola University New Orleans College of Law (USA), King's Inns (Ireland). Great performance of our team reserved them a place in the round of 32 in the competition of the 152 teams that participated in this "Arbitration Olympics". In the elimination round, our students met with the team of Harvard Law School (USA), whose reputation helped them to advance to the top 16. However, this year, it is third time that University of Belgrade Faculty of Law participates in the competition and it managed to enter into the group of top 32 teams.
The students who represented the University of Belgrade Faculty of Law this year are: Jelena Bezarević, Stanko Dimitrijević, Bojana Janković, Miodrag Jevtić, Jelena Leovac, Ivana Palinkaš, Predrag Vidaković. Zorana Nikolić, Ozren Ogrizović, Miroslav Pribilović and Srećko Stanković have participated in writing of the memoranda. The team was coached by Ass. Prof. Vladimir Pavić and Ass. Milena Milutinović.
The University of Belgrade Faculty of Law uses this opportunity to express gratitude to all the institutions that helped the preparation of our students through their generous donations. Apart from the University of Belgrade Faculty of Law, the pool of this year's sponsors consists of: The University of Pittsburgh School of Law, BAMBI, law firm Karanović-Nikolić, Serbian Bar Association, Belgrade Bar Association, International CG group and Consulate of the Embassy of Austria in Belgrade.