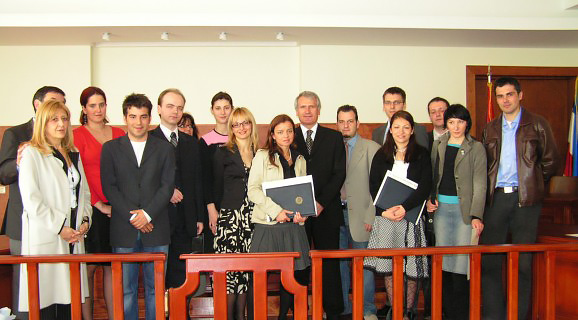 Our students are again among the best teams in International Commercial Arbitration Moot Court Competition
Students of the University of Belgrade Faculty of Law participated at the XIII annual Willem C. Vis International Commercial Arbitration Moot, which took place form 6 to 13 April 2006, in Vienna. They had a great success advancing to the round of 32 in oral roudns!!
The Willem C. Vis Moot consists in solving a hypothetical problem dealing with arbitration and international sale of goods. The Moot consists of two parts. The first one is preparation and submission of written memoranda prior to the oral hearings. There are two memoranda to be written: one for the Claimant, the other for the Respondent. The writing of these memoranda usually takes about five months. The second one is presentation of oral arguments before a three-member arbitration panel. During the qualification rounds each team has four hearings, appearing both on behalf of claimant and respondent for two times. At each hearing, each speaker is graded by each of the three arbitrators. In the end of the fourth day of qualifications, each team has 24 grades and the ranking list of all the participating teams is drawn.
In the tough competition including 156 teams from 49 countries all over the world, our students managed to advanced to the top 32 teams of the competition. During the qualification rounds our students competed against the teams from the following universities: Campbell Law School (USA), The University of Pennsylvania Law School (USA), London School of Economics (UK), Chulalongkorn University (Thailand). Finally, our faculty was eliminated from the further competition by the Monash University Faculty of Law.
The students who represented the University of Belgrade Faculty of Law this year are: Jelena Adamović, Svetlana Ćurić, Uglješa Grušić, Đorđe Krivokapić, Marija Maksimović, Ivana Miletić, Marija Tešić, Srećko Vujaković. Nikola Djordjević, Gorana Kršikapa and Miletić Ivana have participated in writing of the memoranda. The team was coached by Ass. Prof. Vladimir Pavić and Ass. Milena Milutinović.
The University of Belgrade Faculty of Law uses this opportunity to express gratitude to all the institutions that helped the preparation of our students through their generous donations. Apart from the University of Belgrade Faculty of Law, the pool of this year's sponsors consists of: US Steel Serbia, BAMBI, Simpo, Toza Marković Kikinda, MONA, Belgrade Bar Association, law firms: Karanović-Nikolić, Moravčević & Vojnović Law Office in cooperation with Schoenherr, Wolf Theiss, Ignjačevič, CMS, Bojović, Stojanović and partners, and Consulate of the Embassy of Austria and Embassy of Germany in Belgrade.