WHY IMT?
International Master in Taxation (IMT) is a unique, multidisciplinary master programme organized jointly by the University of Belgrade – Faculty of Law and the University of Belgrade – Faculty of Economics and Business of the University of Belgrade. This program represents a unique opportunity for those who are set to develop their professional careers in the field of taxation, as well as in financial and legal advisory, since it provides students with both legal and economic perspective of the tax phenomena, by combining a modern academic framework and set of skills in law, economics, finance and accounting. IMT is available both to students who hold bachelor degree with 180 ECTS and to those with 240 ECTS earn at the bachelor level.
In order to provide students with state-of-the-art mix of competences, the programme will be delivered by renowned professors from both of these faculties, as well as by distinguished academics from abroad, while the top practitioners from consulting and law firms will provide students with insight into contemporary practice.
KEY FACTS
TITLE:
INTERNATIONAL MASTER IN TAXATION
DURATION:
Route A: 2 semesters (60 ECTS) – for candidates with bachelor degree of 240 ECTS
Route B: 4 semesters (120 ECTS) –for candidates with bachelor degree of 180 ECTS
START:
Applications: September
Start of semester: October Winter term
LANGUAGE:
English
DEGREE:
Master (MSc) in Taxation
FEES:
Information to be released, when the call for applications is launched
CONTACT:
Email: international.master@ius.bg.ac.rs
Tel:+381 11 3027 677
CONTACT:
Email: international.master@ekof.bg.ac.rs
Tel:+381 11 3021 068
QUALIFICATION AND CAREER PROSPECTS
AIMS OF THE PROGRAMME
Providing students with a modern and multidisciplinary mix of legal and economic knowledge and skills, demanded by the contemporary global labour market in the field of taxation;
Contributing to the development of tax enforcement, tax compliance, as well as good tax governance in Serbia, by providing the corporate and government sectors with well-educated experts in this field;
Offering of a sophisticated, world class international master programme at the University of Belgrade, a programme which will be capable of recognizing global trends and developments, thus preparing its alumni with the ability to, in the long run, successfully excel in the increasingly changing world of taxation.
LEARNING OUTCOMES
After completion of this master programme, students will be able to:
Understanding the principles of taxation, the formulation, implementation and economic evaluation of tax policy;
Comprehend and analyse national, EU and international tax law, including tax procedure;
Analyse and apply knowledge in accounting and finance in solving tax-related issues;
Apply multidisciplinary competences in creation of tax policy, its implementation, compliance, and enforcement;
Estimate tax effects of business operations and develop tax planning strategies in effective, but ethical manner;
Follow and evaluate trends in contemporary taxation, from a comparative perspective;
Develop and write arguments on tax-related issues, in a well-funded and systemic manner.
LEARNING OUTCOMES
Graduates from this programme will be able to pursue career in a wide range of professions, which require strong analytical skills, including, but not limited to, the following positions:
Tax advisors in consulting and audit firms;
Lawyers, judges and prosecutors who specialize in taxation;
Mid-level and senior government officials and civil servants, officials of international organizations;
Academic positions in higher education institutions;
Public policy expert – Public policy analyst, Public policy advisor,
Research and Development Executives.
This programme also provides a good basis for pursuing doctoral studies in the Serbia or at high ranked university abroad.
CURRICULUM
Curriculum of this programme combines fundamental theoretical courses with state-of-the-art empirical courses, which together with the internship and exposure to high-quality research seminar aims to develop modern competences and critical thinking.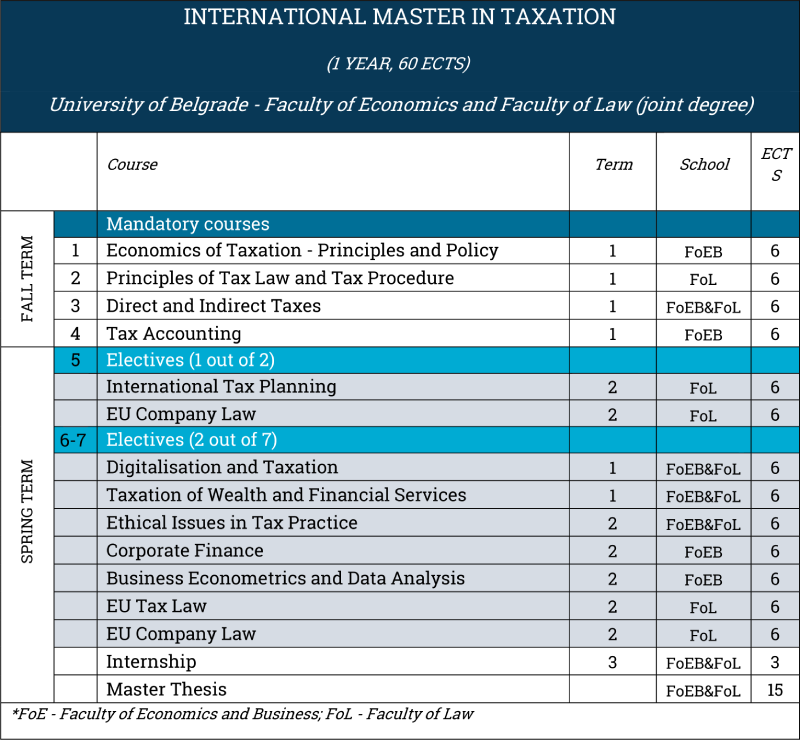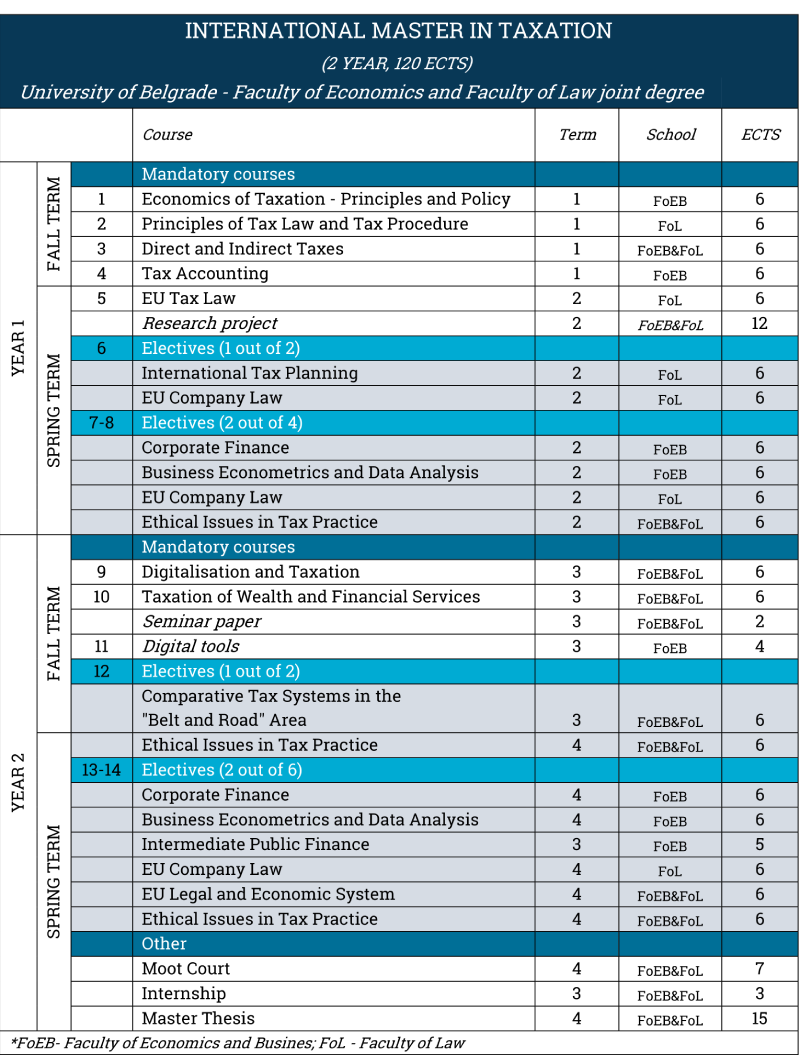 ADMISSION AND APPLICATION
Enrolment to the Route A (1 year, 60 ECTS), is open for candidates who hold at least an academic bachelor degree with 240 ECTS. Candidates who hold an academic bachelor degree with 180 ECTS (or more) are eligible to enrol in the Route B (2 years, 120 ECTS).
Eligible applicants will be invited to an interview, at which their motivation and English language skills will be evaluated. Ranking of applicants will be based on their bachelor degree performance and the results at the interview.
For the International Master Program in Taxation candidates apply online starting from the date of the call for applications until September 30, 2021.
The following documents are to be sent to email:international.master@ius.bg.ac.rs
Copy of undergraduate degree
Copy of undergraduate transcript of records indicating examinations dates
Application form (available HERE)
Recommendation letter (available HERE)
Certificate of English knowledge language (optional)
After submitting the documents, the candidates will be informed about the date and the mode of the interview. The final ranking list will be created based on the average grade, evidence of English language knowledge and interviews with candidates.
Applications are open throughout the year. Registered candidates will be invited to formally submit documents and for the interview in September.
Candidates holding foreign degrees need to have their degrees recognised by the University of Belgrade in order to apply for enrolment. We encourage potential candidates to submit their requests for recognition by mid-July (or earlier) at the latest, in order to meet the application and enrolment deadlines, as the procedure can take up to a few weeks. At the moment, for candidates applying for IMT programme, it is sufficient to provide evidence that the recognition process has been initiated. All relevant information about the recognition procedure can be found at the University page: http://www.bg.ac.rs/en/education/recognition.php?submenuheader=10
FUNDING AND COSTS
Annual fees for entry in 2021-2022 are EUR 4,000. For distinguished candidates, scholarships (up to 25% of the annual fee) will be available. The first payment (35% of the fee) is payable upon admission, while the remaining amount is payable in two installments (35% until January 15, 2021 and 30% until May 15, 2022).
CONTACTS
University of Belgrade – Faculty of Law
Bulevar kralja Aleksandra 67, 11000 Belgrade, Serbia
Email: international.master@ius.bg.ac.rs
Tel: +381 11 3027 677
Application for accreditation of this master program has been submitted. Once the accreditation is awarded, the call for applications will be open.