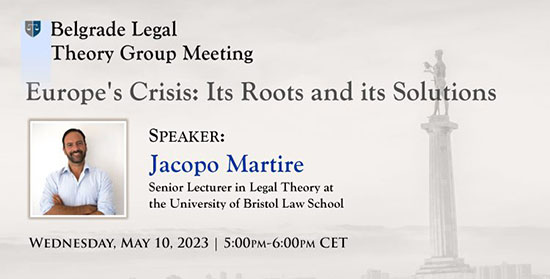 We invite you on behalf of the Belgrade Legal Theory Group to join us at the panel "Europe's Crisis: Its Roots and its Solutions" which will take place on Wednesday, May 10th at 5 pm at the Faculty of Law University of Belgrade (amphitheatre VIII) and via Webex Meetings platform.
This lecture is reserved for Jacopo Martire from the University of Bristol Law School.
You can join the lecture in person or via the following link:
https://pravni.webex.com/pravni/j.php?MTID=mda8dc06a100533f49b246c4bcb407922
In the meantime, you can follow all BLTG activities at the following link: https://www.facebook.com/BGLegalTheory
We look forward to your participation!