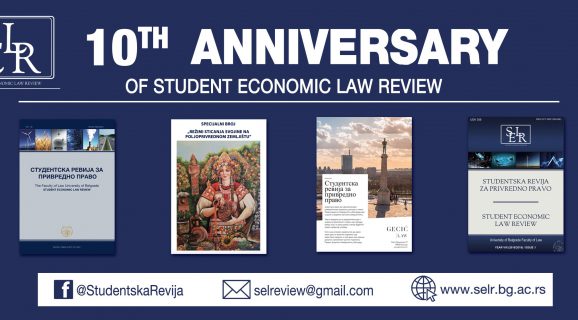 The Student economic law review is celebrating its 10th anniversary
Student economic law review is celebrating 10 years of its existence, 10 years of diligent work, over 175 published papers in 18 issues, and 169 student writers.
Student economic law review is thought out to be an academic and professional journal which is edited by students of the Faculty of Law, of the University in Belgrade, devoted to legal aspects of the economy. SELR is not only a journal where students publish papers, but also the first law journal in Serbia and the first of its kind in southeastern Europe to be edited by students. Through its 10 years of work, SELR has corroborated its vision. The above-mentioned data, as well as numerous successes – especially for special themed issues, validate that student contribution to academic thought can be more than significant, but also that this form of engagement can be truly transformative for talented students who evolve from passive students of law into active authors of scholar resources/papers.
For this jubilee, the editorial team has decided to make a retrospective of all its participants throughout the last few years, to look back at its past, as well as set forth new editorial goals. With that in mind, we present to you the Bulletin of SELR dedicated to honoring our 10th anniversary. We interviewed SELR alumni editors and singled out some of the most intriguing answers, all to find out whether extracurricular activities, such as writing academic papers or taking part in SELR, opened doors to finding work and successful careers in law, whether the skills they gained during their work with SELR proved itself useful in work they do currently, but also how they remember working with their fellow students.
What's more, in the said bulletin you will also find a word from the SELR creator and editor-in-chief Prof. Dr. Tatjana Jovanić, where she shares insights about launching the journal and the greatest success' of this venture. Last but not least, we have prepared statistics about SELR's efforts over the course of the past ten years, as well as information regarding where the former student editors are now.
The interviews in full will be available on our social networks:
https://www.facebook.com/StudentskaRevija
https://www.instagram.com/selreview/
https://www.linkedin.com/company/student-economic-law-review