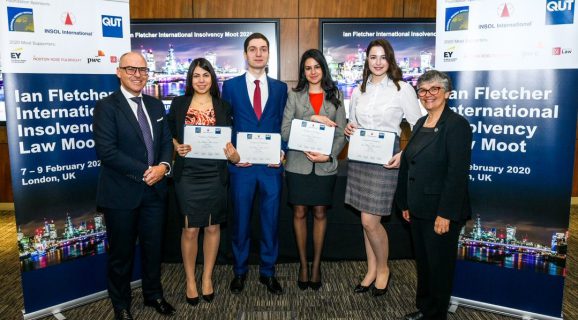 Students of the University of Belgrade Faculty of Law participated in the final stage of the prestigious competition in the field of international bankruptcy law – the Ian Fletcher International Insolvency Moot. The moot was organised by the Queensland University of Technology School of Law, with the support of the INSOL International and the International Insolvency Institute, and it took place from February 7th to 9th 2020 in London.
Following the successful qualifications to the final stage, based on excellence of their written submissions, students of the Belgrade Faculty of Law have successfully pleaded against the student's teams of Radboud University School of Law, Queensland University of Technology School of Law, and Odisha National Law University from India. After a round with Jindal Global Law School, based on the total number of points acquired during the competition, the Belgrade team has been ranked as the fifth of twenty eight teams.
The winner of the Ian Fletcher 2020 competition was the Singapore Management University School of Law, while the runner-up was Jindal Global Law School from India, with the third and fourth place taken by University College London and Odisha National Law University respectively. In addition to winning the fifth honors in the overall ranking, the Belgrade Faculty of Law team received a special award for efforts and fair play during the competition – the Spirit of the Moot Award.
The team of the Belgrade Faculty of Law consisted of students of bachelor and master academic studies: Ksenija Džipković, Ines Janicijević, Vera Kojić and David Spaić. The team mentor was Lecturer Nikola Ilić, while the preparations were managed and supported by Prof. Dr Vuk Radović and Prof. Dr Branko Radulović.
Participation in this international moot court competition was possible due to the help provided by Assistant Professor Dr Milena Đorđević, coordinator of moot court activities at the Faculty, as well as the Faculty's administration. In addition, the participation in the competition in London would not be possible without the generous help and support from International Finance Corporation (IFC Serbia) and World Bank (WB Serbia), throughout the Western Balkans Debt Resolution and Business Exit Project and the Multi Donor Trust Fund for Justice Sector Support in Serbia.