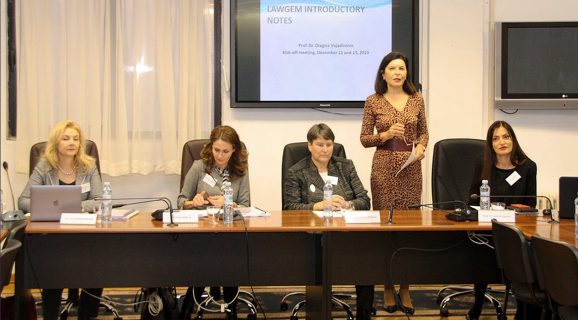 The initial (i.e. kick-off) meeting related to the implementation of the international scientific project Erasmus Plus KA203 – Strategic Partnership in Higher Education, granted to the University of Belgrade as coordinator, for the specific project named: `New Quality in Education for Gender Equality – Strategic Partnership for the Development of Master`s Study Program LAW AND GENDER` (LAWGEM) was held at the University of Belgrade Faculty of Law, on 12th and 13th December.
The Vice Dean for International Cooperation Ass. Prof. Dr Jelena Lepetić had opened the gathering, on behalf of the Management of the Faculty of Law and on behalf of the Dean of Faculty of Law, Prof. Dr Zoran Mirković, who was objectively prevented from attending it. After that Prof. Dr Ivanka Popović, the Rector of the University of Belgrade, greeted the gathering. In addition, the gathering was greeted by the Commissioner for the Protection of Equality Brankica Janković, as the chief representative of the associated partner of the LAWGEMproject.
The holder of the aforementioned project is the University of Belgrade and its Faculty of Law, whereas the project coordinator is Prof. Dr Dragica Vujadinović. Along with the University of Belgrade, the members of the Consortium to which the implementation of the project is delegated are, as follows: Lumsa University Palermo, Italy (Libera Universita Maria SS. Assunta di Roma, Department of Law); Orebro University, School of Law, Psychology and Social Work (Örebro universitet), Sweden; University of Saaarland Faculty of Law, Europa Institut (Universitat des Saarlandes), Germany; University of Cadiz (Universidad de Cadiz), Spain.
Representatives of all Consortium members, thirteen in total (four from Spain, and three from Germany, Sweden and Italy), as well as a number of members of the University of Belgrade Faculty of Law research team were present at the initial meeting. All researchers have actively participated in conversations on project implementation, and in particular on the first two sets of intellectual outcomes of the LAWGEM project, which are already being created, and which consist of the curriculum of the Master's programme and the Questionnaire for the empirical study of the academic staff's opinion on gender equality at all Consortium members.
The members of the research team had the opportunity to attend the lecture on gender sensitive teaching of legal disciplines, held by Prof. Dr Johanna Niemi, from the University of Turku (Finland), on the second day of the gathering. This lecture was organized with the support of the OSCE in Belgrade, and it presented a good starting point for the commencement of work on the development of the syllabi for the subjects of the future Master's Study Program "Law and Gender".
Introductory notes of the project coordinator
Information on the meeting at the Internet site of the Commissioner gor the Protection of Equality:
Information on the meeting at the Internet site of the Center for Democracy Foundation:http://www.centaronline.org/sr/dogadjaj/11989/zvanicno-poceo-projekat-lawgem