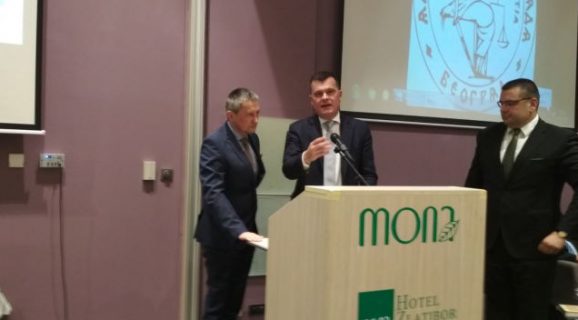 An Agreement on Cooperation Between the Faculty of Law and the Bar Association of Belgrade
It is our great pleasure to announce that on the 25th of October 2019, a Cooperation Agreement has been signed between the Faculty of Law and the Bar Association of Belgrade. The signing of this Agreement took place at the Second Attorney Conference, held at Zlatibor between the 25th and 27th of October, and was witnessed by many attorneys, judges, and high officials of the judiciary and administration.
On behalf of the Faculty of Law the Agreement was signed by the Dean, Prof. Dr Zoran Mirković, and on behalf of the Bar Association of Belgrade by Jugoslav Tintor, the chairman of the Association. Other members of the delegation included Prof. Dr Bojan Milisavljević, the Vice Dean for Academic Affairs, along with the judges of the Constitutional Court and professors of the Faculty of Law, Prof. Dr Milan Škulić and Vladan Petrov, and assistant professors Uroš Novaković, Miloš Zdravković and Sanja Gligić.
All of those present welcomed the signing of this Agreement, pointing out that it would greatly improve the attorney profession. The Agreement stipulates organising student internships with selected law firms, so as to provide the students of the Faculty of Law an opportunity to become better acquainted with the basics of the profession early on. This is also a way to ensure an objective selection of the best candidates for full-time internships at law firms, once they have graduated.
Apart from this, the Agreement further stipulates the joint organisation of professional workshops, seminars and round table discussions. The Agreement also includes the joint organisation of the preparatory classes for the bar exam, which used to be organised solely by the Faculty of Law; now they will involve numerous experts with vast practical experience, along with our teachers.
Finally, the Agreement stipulates active work on introducing an elective course at the Faculty of Law entitled "The Law of the Attorney Profession". This course would allow the students who take an interest in this subject to study the basic legal acts which apply to the attorney profession, along with professional ethics, all of which would help them to maintain high standards in their work later on. As it was pointed out at the assembly, in all developed societies the lawyer profession is highly esteemed and very significant, with the rule of law being improved through an improvement in the quality of the attorney profession.
The studies at the Faculty of Law will thus receive a necessary practical dimension, helping the students to readily tackle professional challenges upon graduation. Based on this Cooperation Agreement, some concrete decisions will be made in the near future, taking further steps to ensure its implementation.