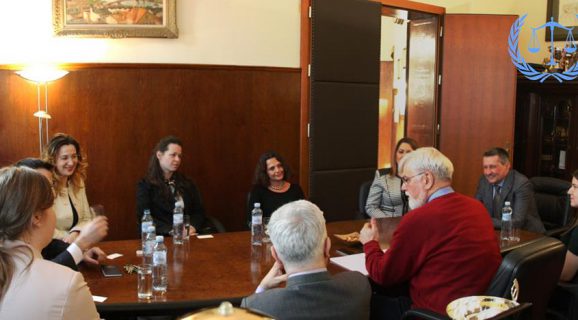 Visit and Lecture of the Ambassador of Israel, H.E. Alona Fisher-Kamm
On Wednesday, March 6th 2019, H.E. Ms. Alona Fisher-Kamm, the Ambassador of Israel to Serbia, visited the University of Belgrade Faculty of Law. In a meeting held at the Dean's office, which was attended by the Dean Prof. Dr Zoran Mirković, Vice-dean for Academic Affairs Prof. Dr Bojan Milisavljević, Vice-dean for Finance Prof. Dr Tatjana Jovanić, Vice-dean for Scientific and Professional Work Prof. Dr Marko Đurđević and Prof. Dr Boris Begović, as well as the President of the United Nations Club Sara Petrović and the Club's Secretary Teodora Višnjić, H.E. Ms. Fisher-Kamm spoke with the attendees about possible future cooperation between the Faculty of Law and Israeli academic institutions.
The ambassador then held an interactive lecture for our students on the topic "The State of Israel – 70 Years, Achievements, Challenges and Opportunities". After addressing political topics, the geographical and historical display of the region, the current problems and all possible paths towards their resolution, H.E. also spoke about Israeli-Serbian relations in the field of investments, and noted that they gradually started intensifying back in 2000. The ambassador stressed that the proximity, as well as the similar mentality of the Israeli and Serbian people makes it easier for investments to be realized. The attendees were also reminded of the fact that 25 years of diplomatic relations between Israel and Serbia were celebrated in December 2017. At the very end of the lecture, in response to one of the many students' questions, H.E. remarked that it is important to maintain good relations between the United Nations and Israel, and expressed hope that the UN will be a place for a more peaceful dialogue and less hostile attitude of certain countries towards Israel, all in hope of achieving true equality of the member states.