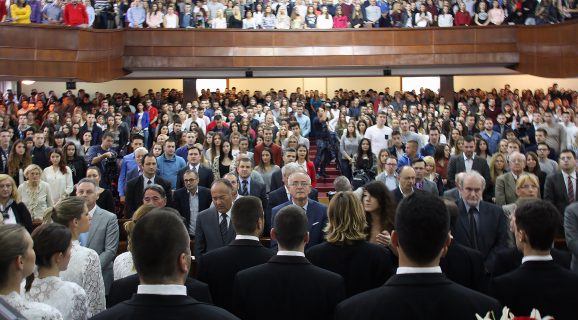 Opening Ceremony of Faculty of Law's New Academic Year
A ceremony for 208th generation of law students was held at the Faculty of Law, on 3 October 2016. Just before the beginning of the ceremony the busts of academicians and professors Radomir Lukić and Mihailo Đurić were revealed in park Tašmajdan, next to the Faculty.
Minister of education, Mladen Šarčević pointed out in his welcoming speech that Faculty of law always nourished a great tradition and did not forget great people who left some impact in legal and social areas. He also stressed that law students have to be guardians of law and justice. Students were greeted by the vice-rector prof. Dr. Živan Lazović, who reminded them about the historical bond between the Faculty of Law and the Faculty of Philosophy at the time of the establishment of Serbian academic education. He also emphasized the famous quote which represents the essence of law – Ius est ars boni et aequi! Students vice-dean, Jovana Tanasić welcomed new colleagues and gave them useful advices how to cope with the potential problems at the beginning of studies.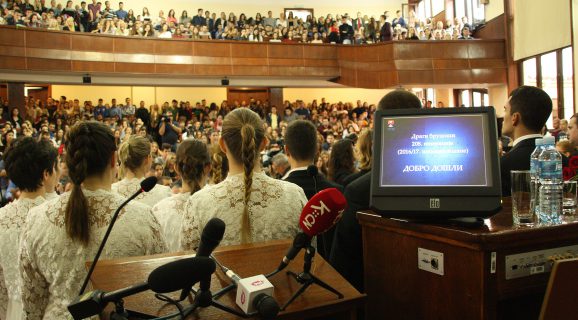 Performance of the "Obilic" choir led by the conductor Ana Ćosović contributed to the festive tone of the event.
At the end of the ceremony, during a brief video presentation students had a chance to learn something about the history, significance and reputation of the Faculty and its further plans.
Official opening ceremony was attended by presidents of the courts, numerous judges and prosecutors, representatives of University of Belgrade and representatives of city authorities, as well as lawyers, professors and others.