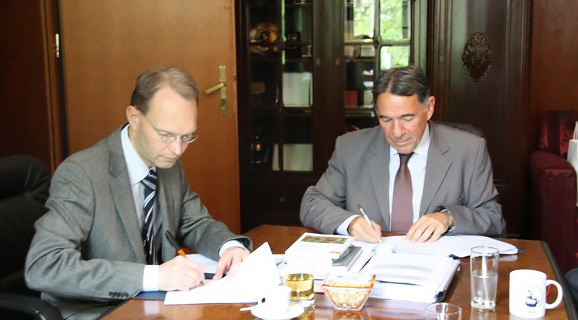 Cooperation Agreement Signed with IDEAS Centre
On 10 May 2016 the University of Belgrade Faculty of Law signed a Memorandum of Understanding (MoU) with  IDEAS Centre from Geneva, Switzerland. The aim of the MoU is for the IDEAS Centre  to provide assistance to the Faculty in expanding the program of the course on International Trade Law. The assistance to be provided will aim at empowering the International Trade Law lecturers to successfully design and execute the course and will involve assistance in designing the expansion of the program of the course. The expanded course should examine and analyze the WTO legal framework, including the WTO Dispute Settlement Mechanism and the case law emanating there from, and its relation to bilateral and plurilateral preferential trade agreements as well as other international trade related laws and treaties having an effect on trade, in particular the international investment regime.  The support is being provided within the fourth phase of the assistance project to the Government of Serbia in the WTO accession process that is financed by Swiss Secretariat for Economic Affairs (SECO).
During the short signing ceremony, the Dean of the Faculty Mr Sima Avramović thanked IDEAS Centre and SECO for the assistance to be provided and expressed his conviction that the results of this cooperation will be beneficial both for the Faculty and Serbia. Ass. Prof. Dr. Milena Djordjević, Vice-Dean for International Cooperation at the University of Belgrade Faculty of Law and Ass. Prof. Dr. Marko Jovanović  were also present at the singing ceremony.