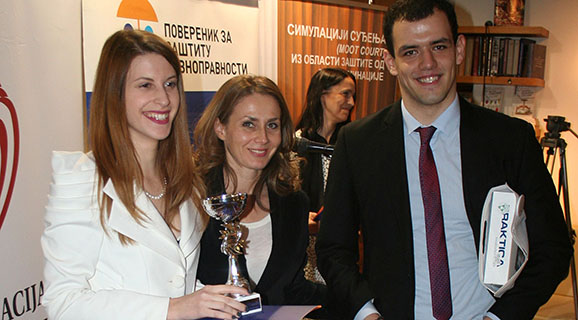 Great Success in the Moot Court in the Field of Protection Against Discrimination
Students of Faculty of Law, University of Belgrade – Milica Škaro and Stefan Raičević won the second place in the Third National Competition in the field of protection against discrimination, whose finale was held on 16 December 2015.
In addition, in the semi-final, there was a domination of teams from Faculty of Law, University of Belgrade – four teams out of eight. According the overall ranking, third team was the one consisted of our students Ana Petrićević, Mina Mihaljčić and Staša Mrdović. Also, in the semi-finals, our faculty was represented by Djordje Vićić, Jovana Misailović and Katarina Tomić (their coach was prof. Dr. Miodrag Jovanovic) and by Aleksandra Andjelković, Jovan Mićović and Balsa Stevanović (their coach was Ass. Prof. Dr Bojan Spaić). Moreover, assistant Dušan Rakitić was a coach of the runner-up and third-placed team.
The competition was organized by the Commission for Protection on Equality, in cooperation with the Judicial Academy and the Fund for an Open Society, during November and December 2015. The semi-final and final round of the competition, which consisted of oral presentations, were held on 15 and 16 December 2015, in the Administrative Court in Belgrade. 27 teams participated in the competition and the winner was the team of "Stribor" from the Law Faculty of the University of Niš.