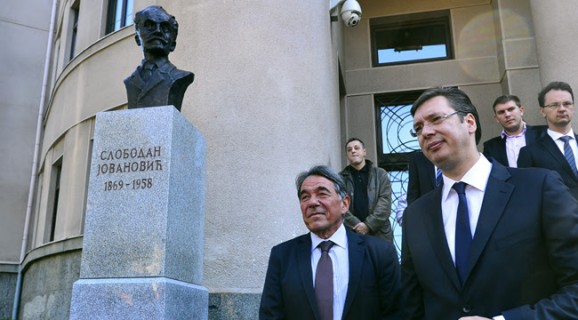 Serbian Prime Minister Aleksandar Vučić visited Faculty of Law, University of Belgrade
Serbian Prime Minister Aleksandar Vučić and Dean of the Faculty of Law Sima Avramović revealed today the bust of academician Slobodan Jovanović in front of the Faculty.
The ceremony was attended by Ministers of Justice and Education in the Government of the Republic of Serbia, Nikola Selakovic and Srdjan Verbić, Rector of the University, students and professors of the Faculty of Law, as well as numerous citizens.
The Prime Minister opened the newly built amphitheater in the park behind the faculty building, where classes will be held outdoors. Also, he visited the Museum of the faculty, library, reading room and the courtroom.
The prime minister gave the first lecture to students of Faculty of Law – "Serbian country between East and West". According to the words of Dean Sima Avramović, that was the first time in history that Prime Minister welcomes future lawyers and officially opens the new school year.